Comics / Comic Reviews / Marvel Comics
Ultimate Comic: Hawkeye #2
By Zak Edwards
September 28, 2011 - 21:26
Spoilers Ahead!

While DC is getting an insane but deserved amount of attention this month for their massive reboot Marvel Comics has been quietly doing some reorganizing themselves with their Ultimate imprint. After a few years of scaled back and quite frankly terrible,storytelling after the disaster of the Ultimatum, Marvel Comics has finally reinvested into a line that was at one time at the top of the sales charts. To help them, Marvel Comics enlisted Jonathan Hickman and Nick Spencer, two up and coming and very talented writers. Hickman has been around a little longer, having spent the past few years on Fantastic Four and the current FF book, and is famous for his complicated and grand scale storytelling, something the Ultimate Universe is benefiting from in wonderful ways right now. Handling the Hawkeye mini-series and the Ultimates, Hickman is weaving together a couple of stories that, while being completely separate, connect the universe together. Two of these books came out today, so let's talk about one of them.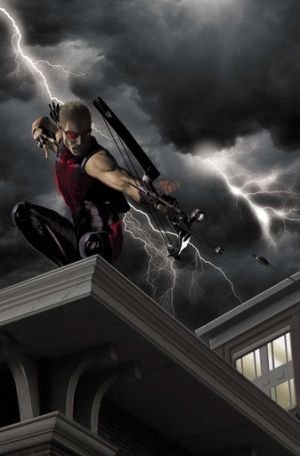 Ultimate Comics: Hawkeye seems to be part of Hickman's mission to reestablish the Ultimate Universe through the most radical narrative technique I've seen in a while: by telling really good stories. His mini-series focusing on Captain America used this tactic and I feel he's trying this again. Thankfully, this tactic involves Hawkeye dropping his annoying and flat characterization seen in Ultimates 3, where he sported a bullseye on his head and was just generally mad at everything, and replaced it with some high-flying action. The issue reminds me of the issue where readers were first introduced to Hawkeye, way back in issue eight of The Ultimates, in which Hawkeye and Black Widow take out an office building of aliens. The issue was straight-up action, start to finish, but extremely well done and in a way that introduced and showed these characters at their best. Similarly, Hawkeye, stuck deep in enemy territory, in charge and willing to do what it takes to get things done, is at his best in terms of personality and shooting things up. The whole issue, while still being as politically opinionated as Hickman's previous Ultimate work, is a whole lot of spy-action fun.
Granted, the issue isn't perfect, Clint's flashback scene seems to subtract from the character by adding to him. Rather than being just really good at his job, it turns out Clint Barton is some sort of low-level mutant, one with more rods in his eyes than most while having fewer cones, not unlike a chicken, and some 'orb distortion' to help him see things far away. The 'explanation' of Hawkeye's abilities doesn't add anything to the character and really only makes him seem less of the badass Millar made him into. Rather than being a normal person with exceptional training and self-made abilities who can stand up against and with people given supernatural gifts, Hawkeye is now just another superhero using his powers. The whole things is fairly disappointing and the metaphorical implications, that he sees "mostly in black-and-white," doesn't add up to the character, who has almost always existed, as Millar put it in The Ultimates, "in the cracks in the sidewalk." Hickman's brief moments of politics, however, more than make up for the concretization of Hawkeye's general badassery. Playing on the famous image from Tiananmen Square, Hickman has a little girl stand up to a line of tanks and offers a complicated meditation on the superhuman's relationship to its government, oppressive or otherwise. There isn't a clear answer or opinion given, but rather a point to ponder. And continuing in this vein of vague politics, Hickman ends the issue with a video of a man outlining Communism to S.H.I.E.L.D Director Nick Fury, but with a strange democratization of superpowers built into the dialogue. The Ultimates' need to stop a spreading of superpowers to non-Americans, or at least non-Westerners, is completely in line with the politics that made the original Ultimates so interesting, and I welcome finding out where this story goes. Hickman has perfectly captured the original attitudes of the book while making something completely entertaining.
As for artist Rafa Sandoval, his art is very well done. If Marvel had a house style, and thankfully it doesn't, I feel Sandoval's art reflects what the majority of Marvel books look like. This may sound critical, but I mean this in a positive light. The book works technically, the paneling concise and effective, as is the action-packed pictures with plenty of detail to both the characters and the backgrounds. Sandoval has a handle on architecture and the cityscapes are just a nice to look at as the characters themselves. Everything here is energetic and intense, and while most of the cast seems to have their faces obscured by helmets and sunglasses, they say all they need to. My only complaint would be proportions, especially in the arms, where character's hands seem to be tiny afterthoughts on massive tree trunks. But overall, Sandoval's art fits the book and the company very well.
Grade: A- Wonderfully recapturing the Ultimate Universe.
Last Updated: February 5, 2023 - 09:06