Top 5 Female Antagonists in Video Games: #3 - Dark Samus
By Eli Green
Apr 25, 2007 - 8:00
Throughout Women's Month, we'll be counting down the top five female protagonists and antagonists in video games. This isn't going to be your usual babe list though, because we're not going to be counting down based on looks. What we're looking for has more to do with how cool the character is, what she can do and, most important, her franchise power. Of course, any kind of countdown list like this will be biased in some way or another, so if you feel that our top five isn't good enough, let us know. In fact, send us your top five so we can see just what you think. Here's today's pick.
---
#3 – Dark Samus
First Appearance: Metroid Prime
Other Appearances: Metroid Prime 2: Echoes
Metroid Fusion (unofficially)
Dark Samus' first appearance in Metroid Prime was short, at best. In fact, if a player doesn't complete the game past a certain percentage, she doesn't even appear at all. At the end of Metroid Prime, after Samus defeats Metroid Prime, it strips her of her Phazon Suit and turns into a puddle of Phazon. Samus quickly escapes from the planet and flies off into space, but back in the cavern where Samus fought Metroid Prime a hand suddenly reaches out of the puddle and turns into a fist.
Metroid Prime 2: Echoes revealed that Dark Samus is essentially a Phazon based "clone" of Samus. This evil version of Samus however, is simply a grotesque skeletal structure in a variation of Samus' Phazon Suit. In fact, where Samus' right hand would normally occupy the Beam Cannon controls, there is simpy a hollow tube which acts as a Phazon Cannon. Dark Samus has many of Samus' abilities, and each time Samus encounters her in Echoes, she becomes more powerful than the time before, and every time Samus gains a new ability, Dark Samus does too.
Samus first encounters her Dark counterpart just after arriving on the planet Aether. Giving Samus no chance to engage her in battle, Dark Samus quickly disappears through a Dark Portal to Dark Aether, a dark dimension of the planet created by a meteor strike. Though Samus attempts to follow, she quickly finds her Power Suit is unable to handle Dark Aether's corrosive atmosphere and she quickly retreats back through the portal, losing almost all of the Power Suit's abilities at the same time.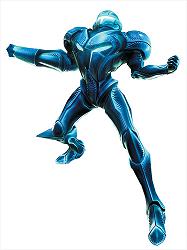 Samus would have the come up against Dark Samus three more times in the game, each time having to face a more deadly opponent. As mentioned before, each time that Samus gained new abilities, or regained old ones, Dark Samus would be more powerful at their next meeting. As Samus acquired the Morph Ball, so did Dark Samus. When Samus found a new Beam Cannon enhancement, Dark Samus' Phazon Cannon would become more powerful. By the game's end, Dark Samus was almost impervious to all of Samus' weaponry and was able to disrupt most of her visors, not only making her tough to hit, but tough to find.
Samus would prevail though, managing to turn Dark Samus' Phazon blasts against her. Upon her defeat Dark Samus limps up to the real Samus, and just before touching her, turns into a cloud of Phazon. This may not have been the last time Samus will see her Dark counterpart. We will likely see her return in Metroid Prime 3: Corruption.
A final note before we end. We did mention that Dark Samus appears in Metroid Fusion. That is really a matter of opinion. Officially, the Samus "clone" in Fusion not a Phazon based one, but rather a dangerous parasite, called the SA-X, which simply mimicked her Power Suit.
We'll be rounding out the rest of the top 5 female protagonists and antagonists in video games throughout the rest of Women's Month, so stay tuned.
Last Updated: Jun 26, 2018 - 9:28