Comics / Comic Reviews / Marvel Comics
Thor #604
By Andy Frisk
December 7, 2009 - 18:00
Following the events of Giant Size Thor: Finale, "Latverian Prometheus" begins in Thor #604. Kelda attempts to avenge the slaying of her mortal lover, Bill, at the hands of Dr. Doom, but Doom has been busy and is now in possession of some hideously mutated and powerful weapons. These new weapons will prove a great challenge to the Asgardians planning on attacking Doom in his castle. Meanwhile, Dr. Donald Blake, recovered from the Doombot assault, determines, with the help of Reed Richards, just who was behind the assault (the Doombots were magically and forensically untraceable, but Blake and Richards figure it out). Blake and Thor then decide it is time to make their own move against Doom…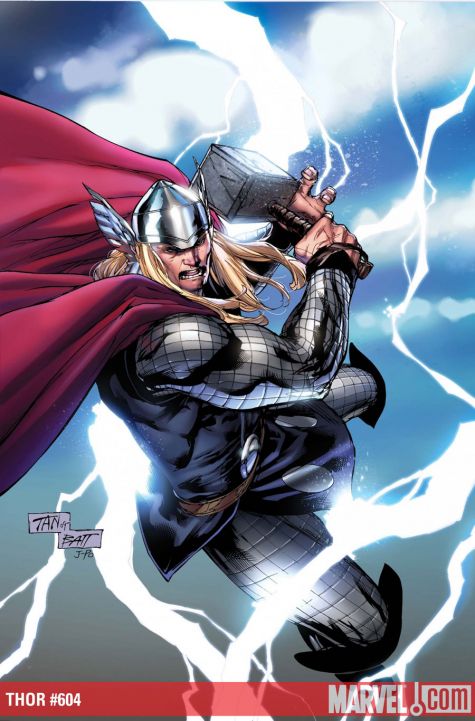 The new creative team (well, not brand new; they've been around for a few issues) of Gillen and Tan continue to march toward the resolution of the various storylines that were launched when Thor was re-launched and was subsequently renumbered. While they have met with success (mostly) in attempting to continue to maintain the high level of storytelling and plotting that made for a Thor renaissance, the plot falters on occasion. Blake's having to turn to Richards in determining where the attack on himself came from, and Doom's Frankenstein-like manipulation of his captive Asgardians both are a bit hokey and predictable, but will provide the advances of plot necessary to tidy up and bring to a close what has been a fantastic run of storytelling on Thor. All of the plot threads and conflicts need tidying up if Thor is to take, what looks to be, a major role in the upcoming Siege storyline. Unfortunately, the story needs resolution quickly, and it looks like it will get done quickly. "Latverian Prometheus" is only a three part story.
Tan is continuing Copiel and Djurdjevic's artistic vision for Thor. The book's characters, and their home are realistically rendered, and they continue to be more in the style of The Lord of The Rings visually as opposed to a Kirbyesque/pseudo sci-fi meets medieval look. Tan is a worthy successor to the previous team, but his art isn't quite as dark, unfortunately. Loki doesn't look nearly as sinister as he did under Copiel and Djurdjevic. Tan does add his own touches though. His rendering of Heimdall's eyes stands out in particular.
Overall, Thor still remains a strong read. The impending reunion of Thor with his Asgardian brethren and their battle against Doom is worth looking forward to. Let's hope that the next storyline is nearly as epic as this one has been.

Rating: 8 /10
Last Updated: May 19, 2020 - 12:25