The Smurfs #1
By Hervé St-Louis
August 7, 2010 - 14:42
Papercutz, youth-based division of NBM Publishing has gained the rights to the Smurfs for the North American English market and has begun publishing Smurf comics in various format. The Smurfs #1 is a preview of the graphic novels reprinting the Smurf comic books created by Belgian cartoonist Peyo. Here, the evil sorcerer Gargamel who wants to use him in a potion that can give him the power to turn metals into gold has captured a poor Smurf. Will the other Smurfs save the poor Smurf in time?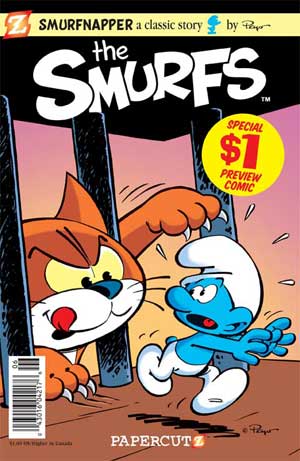 I really smurfed this issue. I haven't smurfed a Smurf comic book in years. Of course, I've smurfed all the originals as a young Smurf and really smurfed them back then. I really smurf that Papercutz is smurfing this classic series to a new generation of Smurfs. The Smurfs are a safe value and great entertainment for any age. Smurfing this brief story, I was smurfed at how it smurfed so well and smurfed enough laughs and adventure in such as small package. The Smurfs are smurfing a comeback and it's great to that a solid North American publisher is re-smurfing this classic European series again.
As a regular series, this comic book would be great. The team at Papercutz reformatted the entire comic book to make it fit well in a classic North American format. They also recoloured the artwork, although nor going overboard. The work Peyo did decades ago ends up looking as fresh and contemporary as ever. The best part about the Smurfs and similar comics from the Charleroi school is that they were really classics. While reading a Batman comic book published in 1958, the year this story was published would probably feel weird. North American comics have not aged that well in comparison to their European counterparts. Often parents are looking for something decent and completely clean for their kids. Kids, meanwhile don't want to read stuff that talks down to them. The Smurfs and several comics created by Peyo fit the bill pretty well. As an adult, this story was groovy. As a kid, I remembered reading these books by the truckload.
What's smurfing about this story is that we smurf the Smurfs before they had real established personalities and characters. There were many Smurfs and each was a fun character although, except for Brainy Smurf, they all smurfed alike. I always didn't like the way the cartoon series forced separate personalities strongly on the Smurfs and focused on just a core group which differed from the comic book series. Here, we smurf the Smurfs as Peyo intended, without any compromise.
Rating: 10 /10
Last Updated: September 6, 2021 - 08:15