Comics / Comic Reviews / More Comics
The Sea Ghost #1
By Hervé St-Louis
January 30, 2011 - 21:35
The Sea Ghost, after appearing as a cast member in The Undersea Adventures of Capt'n Eli finally get his one shot comic book. After having been taken away from Earth and dumped in the middle of a civil war on an alien planet, can the Sea Ghost stop a deadly war on that foreign world and find his way back home?


The Sea Ghost was a cast member of a comic book I had never heard about until I got the first issue of
The Sea Ghost
. What attracted me to this book was the Alex Toth design of the character. He really felt like he was a mix of the Space Ghost and Aquaman. Hey, I grew up on both Aquaman (in the
Super Friends
) and
Space Ghost
cartoons. What else could I ask for?
The Sea Ghost is a marine super hero who fights for peace for a world broken by civil wars by the descendants of the first Atlanteans. In the story, he leaves his kids behind to investigate a weird phenomenon before getting transported to another world where he must convince sea dwellers and land inhabitants from living together in harmony.
The story is simple and suitable for younger readers. In fact, this book should probably given to younger readers. It's entertaining enough for an adult but really meant for kids. This comic book is of course directly inspired by the Alex Toth's Space Ghost and Ramona Fradon's Aquaman. These stories, back then, were simple enough and meant to entertain kids. The story was predictable for me, but still good. What really surprised me was the third inspiration for this comic book which the author did not mention. I'm not even sure if he knows that his comic book also has a strong resemblance with the Captain Nemo cartoon series (
Capitaine Marc-Simon
in French) that played on Canadian television in both French and English in the late 1970s and 1980s. I'm not sure if the series was ever shown in the United States, but seeing the first scene with the two kids reminded me of the
Captain Nemo
cartoon that I watched as a kid. Part of this series is also very reminiscent of Flash Gordon, but undersea.
I like the Sea Ghost a lot as a character. He's got potential. I believe that creator Jay Piscopo used either Adobe Flash or Illustrator extensively in his work. The work is definitely digitized with a vector-based illustration program, creating very clean lines. There are lots of gradients and distinct line patterns that this old Flash animator would recognize anywhere. However, I'm not sure if Piscopo scanned his work and then converted it with an illustration program or if he drew the comic book directly using a digital pen and a drawing tablet. He does reuse some of the drawings on occasions, so his work has definitely been retouched digitally. The only problem with using this technique for illustration is that the artist has to be careful to weigh in the line density in every panel properly. In some panels, the contour lines are too thin. In others, they are too thick. There's a just right middle that the artist never quite grasps that would make his work over all as crisp as that in a cartoon series.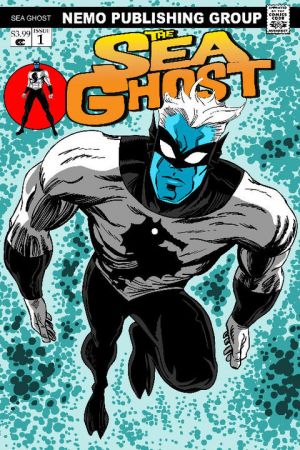 The lettering is a problem and is not designed properly. In many pages, it just leaks outside of the panel space in a way that's inelegant. Because of his reliance on digital artwork and gradient-based backgrounds, Piscopo neglects the addition of strong backgrounds that could contrast well with his animated look. If he were to add nice bitmap-based backgrounds with more than gradient colours, it would create a contrast with the characters similar to an animated cartoon. The book also contains a few pin ups by artists such as Fradon. The cover seems to have been drawn the good old way, which is a good addition to the package.
The Sea Ghost is an interesting series. So far it's too similar to the Space Ghost to be anything that could go beyond, but it's still a great package for parents who want to introduce their kids to comics, or someone looking for something that feels it's from a generation ago.
Rating: 8 /10
Image Gallery:

Last Updated: February 5, 2023 - 09:06