Comics / Comic Reviews / DC Comics
The Savage Hawkman #1
By Andy Frisk
September 29, 2011 - 23:11
Carter Hall doesn't want to be Hawkman. The Nth Metal that makes him Hawkman isn't ready to release him though. After trying to destroy the Nth Metal wings, helmet, and other Hawkman paraphernalia, it consumes him, returns him to his residence, and ends up becoming a part of him in ways that Carter never imagined. Obviously, this could be a bad thing for his job as a gifted cryptologist who works for Professor Ziegler, a man who's "turned an old meatpacking and distribution plant into a state-of-the-art genetics lab capable of examining archeological finds" whose "latest kick is his search for alien ruins." When Ziegler and his team salvage a crashed alien ship from the bottom of the ocean with aliens intact though, Carter is lucky that the Nth Metal wasn't as finished with him as he was with it…


Ancient aliens, archeology, cryptology, and one very powerful superhero make up the basic elements of The New 52's
The Savage Hawkman
#1, and it works. Writer Tony S. Daniel must be an
X-Files
fan (
The X-Files
being the greatest television show ever), because I could not help but see some fan appreciation nods and similarities to the series. The overarching new myth of this Hawkman involves all the elements listed above, and when the alien creatures that Ziegler's team pull up off the ocean floor begin to morph and take over some of his team like similar to the "Black Oil" aliens of
X-Files
fame, I was actually completely sold on this issue. Hopefully Daniel will continue to sell us on the series.
One doesn't have to know what the heck I'm talking about as far as the
X-Files
references go to enjoy
The Savage Hawkman
#1 though, not by a long shot. Daniel manages to craft a unique story that pays homage to the original Gardner Fox creation by making Carter a cryptologist, specifically one who deals with lost or alien languages and script, who's part of an archeological team, and by including the fabled Nth Metal as the source of Hawkman's power. He takes Carter in new directions though by making him more interesting than we've seen him in a long time. He might be a savage fighter, but he's not one by choice anymore. There's some complexity to his character that makes him more than just the boring barbarian-like character he was towards the end of the old DCU. The best thing that Daniel does though in
The Savage Hawkman
#1 is set up plenty of mystery surrounding Hawkman's origins and history. The action begins medias res, and there's plenty for Daniel to reveal over the coming months. Part of the problem with the Hawkman of old was that his continuity was so messed up that no one ever really knew what his real origin and history was. Was he really the reincarnated prince of Egypt or an alien from Hawkworld aka Thanagar? If anyone was in need of a clean reboot it was Hawkman, so here The New 52 paradigm actually works very well. All we can be sure of thus far is that this new Hawkman is starting from scratch as a character, and Daniel intelligently avoids revealing Hawkman's new origins too quickly. It looks like he's going to wisely let the mystery unfold over the course of some specified time, instead of revealing it all at the outset. It's a pretty smart move for a writer trying to hook new readers. Daniel sold me with the ancient aliens, archeology, and cryptology thing, he hooked me into coming back for issue #2 with the mystery he builds around Hawkman's origin.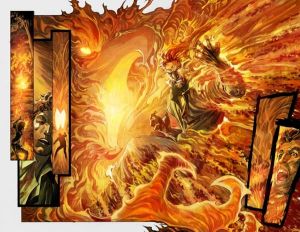 As far as the art goes, I've never been that much of a fan of Billy Tan, but here his work is actually quite incredible. While his action choreography and character poses are still a little odd, his style captures the frenzy of Hawkman and his new visually hyperactive suit excellently. Sunny Gho's colors do an excellent job of creating the reflective shininess of Hawkman's helmet, shoulder guard, knee bracers, and weapons. He also creates some great depth to the nearly all black colored aliens through shading. All around, the art is solid and brings the new Hawkman to vivid life.
Overall, if Daniel manages to stick to his established plot elements, he just might have another hit on his hands with
The Savage Hawkman
. All the parts are in place. Let's see what heights they take us to.
Rating: 9 /10
Last Updated: September 6, 2021 - 08:15