Comics / Comic Reviews / More Comics
The Order of Dagonet #6
By Andy Frisk
February 17, 2012 - 23:00
(Please note: There are some spoilers discussed here, but the events of this issue are too smart and interesting for me to review this book without referencing them. Consider yourself forewarned.)

I've been a fan of
The Order Of Dagonet
from issue #1, but haven't really been fully convinced of its intelligence until now. Referencing Shakespeare's greatest comedy (and my personal favorite)
A Midsummer Night's Dream
, series writer Jeremy Whitley crafts a tale that turns the humor of that play on its head, and for the first time in quite a while caused this lover of The Bard's work to look at his favorite Shakespearian comedy in a whole new light. The last to do so was none other than Neil Gaiman himself in the pages of his legendary
Sandman
. Granted, Whitley's being mentioned in the same breath as Gaiman might be bit over the top and premature, but trust me, it's not too terribly over the top at all. Even if Whitley is simply taking inspiration from Gaiman's masterful use of Shakespeare's
A Midsummer Night's Dream
, he could be taking his cue from far worse creators.
Sir Tottington, the newly revealed Queen Titania's captive (but not captured) audience, hears a tale that sets much of what he and his fellow Knights of the Order of Dagonet have been told my Merlin on its head. We've already seen that Merlin's motivations are less than heroic, especially considering his racist and hateful overtones, but now Oberon (The King of Faerie and Titania's husband) is revealed to be not much of a better man. It appears that Titania, and her pixies, are the only members of faerie with mankind and the natural world's best interest at heart. Unfortunately, she's been thwarted at nearly every turn. Now, and hopefully, she'll find the help she needs to end the insanity that's gripping the United Kingdom in the wake of the faerie "invasion."
In an intelligent role reversal of Shakespeare's legendary literary characters, Whitley turns the fickle and shallow Titania of
A Midsummer Night's Dream
into a strong, heroic, and victimized woman of incredible strength and kindness. He also turns the fun loving and silly trickster of Shakespeare's play, The Puck, into a sadistic killer (here's where Whitley takes his cue from Gaiman's representation of Puck-which was borrowed in turn from various other versions of The Puck). Most powerfully, and shockingly, Titania reveals that her comedic twist with Bottom in the original play, portrayed for laughs, was actually a sexual assault upon her person. It makes sense when one thinks about it. Titania is essentially drugged and ends up getting rutted by a human with an ass's head. It's tantamount to date rape. As much as I've studied Shakespeare and
A Midsummer Night's Dream
, I never thought of it that way before…and it's a little embarrassing that I haven't.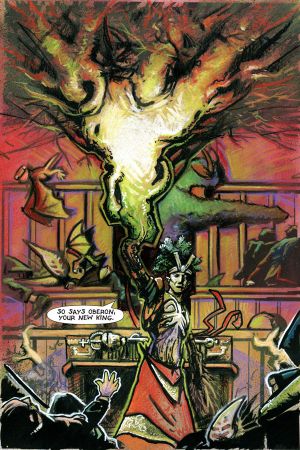 An image of Oberon from a previous issue.
Something that I'm fully NOT embarrassed to admit though is just how much I enjoy series artist Jason Strutz's artwork on
The Order of Dagonet
. His unique pastel and impressionistic artwork is perfectly suited for bringing Whitley's tale to beautiful life. His version of the denizens of Faerie is the most unique, visually interesting, and logically realistic I've seen, especially considering their close mythological relationship with the natural world. Too often fantasy artists tend to portray faeries, elves, and the like clad in armor, chain mail, and decked with medieval weaponry. They look as if they've walked right off the set of
The Lord of The Rings
. As great as that type of portrayal was (and is), Strutz's portrayal is the first I've seen in some time that is actually something different, and smart. I envision Strutz's work one day showing up in a Vertigo book of similar theme and scope. He'd be a perfect match (much like newcomer
Chrissie Zullo
is) for that type of book.
Overall,
The Order of Dagonet
continues to impress, and only gets better each month. These indie boys really got something unique going on here. You should check it out.
Rating: 9 /10
Last Updated: August 31, 2023 - 08:12