Comics / Comic Reviews / More Comics
The Mission #1
By Andy Frisk
March 25, 2011 - 22:46
Paul Haskell has all the usual worries of a middle aged husband and father. Downsizing at work and a lack of time to spend with his kids and wife dominate his day to day thoughts, until he meets the mysterious Gabriel ("You can call me Gabe") in the parking garage of his doctor's office. The same doctor he's seen for years and who just told him he's in great shape. The lights unnaturally go out and Gabe approaches Paul with the words, "You've been selected for a mission. There's a war going on all around us. A battle between good and evil. You've been chosen to play a part." It's the part he's chosen to play that is difficult to swallow. "You must kill a man named Neal Corman." Paul must execute a man he has never met. When Paul decides that he's not going to do this thing, he meets Gabe again the next day, who prompts him to not shirk his duty again, and the doctor who just gave him a clean bill of health calls him requesting he immediately come in to take some tests in order to rule out some "serious malignancies…" It seems that Paul must go through with his mission. When he stakes out his prey, and decides that the man is not evil and that he can't kill him, he makes an even bigger mistake…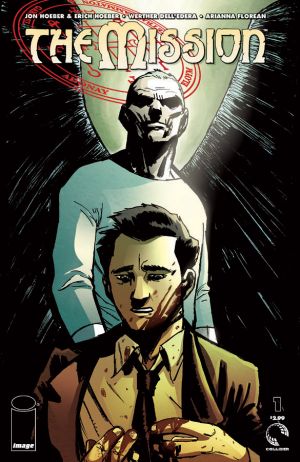 The Mission
is the type of great no nonsense, no frill, no superhero in tights thriller that is incredibly rewarding in its simple telling of a taunt thriller that you really can get wrapped up in. Writers Jon Hoeber and Erich Hoeber craft a tale about an ordinary everyday man whose world is suddenly turned on its head when he gets enlisted in the greater battle of good vs. evil. It's a story about doing something that you're told is the right thing to do, and basically having no choice in the matter. It's also about taking such action, or not, based upon a leap of faith. It's easy to at first side with Paul and urge him to just do as he's told, but upon consideration (at least until the end of the story) whether or not "Gabe" is really "Gabriel" (as in of the heavenly host) is in doubt. Something supernatural is going on obviously, but we don't see any of the usual tell tale signs of Gabe being angelic outside his appearance on the cover of issue 1 sporting wings. The authors keep you guessing right up until the very end on whether Neal needs to be stopped or not. Even more interestingly though, the theme of the "needs of the many outweighing the needs of the few" is pretty deftly handled by the writers without them ever getting specific about it. If Paul goes through with his commanded execution of Neal what will be the costs to him and his family? We don't know and will never know. Also, Is Paul's life worth less than the lives that Neal will affect? How do you make that judgment? Who should make that judgment? There's a great deal for the Hoebers to get to the bottom of and expound upon thematically here. Therefore, there's a lot to look forward to with this series.
There's nothing visually in the entire issue (with the slight exception of Paul's brief one page dream sequence and the aforementioned angel wings on the cover) that is graphically supernatural or fantastical. Series artist Werther Dell'edera creates a realistic look for the series with some very simple panels that set the stage very well atmospherically and move the narrative along incredibly well visually. Some pages have very little text (if at all) and no dialogue. The story really does unfold within the sequence of the panels and the close up scenes of Paul, Neal, and Gabe's faces. It's all very understated, but dense. Dell'edera's heavy ink lines heap to create this oppressive and tension filled atmosphere. If there ever was an example of showing more with less, the artwork in
The Mission
is the perfect definition of it.
I'm anxiously looking forward to finding out how this story is going to play out. There's a great deal for the Hoeber's and Dell'edera to expound upon here. If the rest of the series is as good as issue one, it just might become one of Image's new classics.
Rating: 9 /10
Last Updated: May 19, 2020 - 12:25