Comics / Comic Reviews / Marvel Comics
The Mighty Avengers #30
By Hervé St-Louis
October 24, 2009 - 23:19
Doctor Hank Pym meets his maker and finds a new purpose in life, while the Avengers recruit other Avengers from other teams to deal with the menace of the Inhuman with no name. While some Avengers accept to follow Hercules and his allies, others, such as Norman Osborne and his Dark Avengers refuse and laugh at him. Will the Avengers be strong enough to defeat the Inhuman with no name?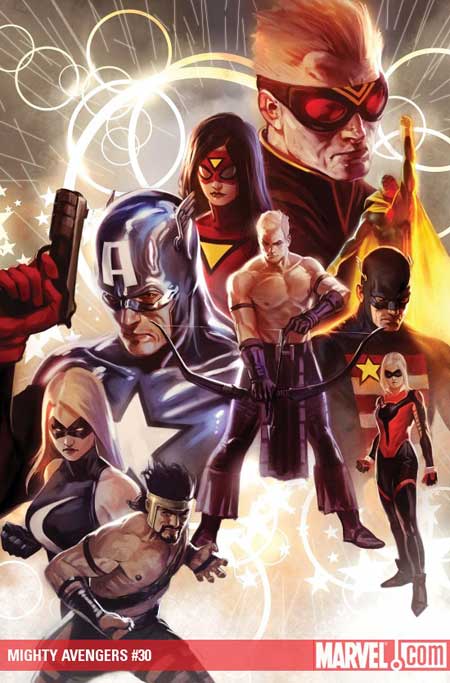 This series' purpose is really about rehabilitating Hank Pym as a character. His meeting with his make was quite interesting because it tried to differentiate him from other Marvel universe geniuses and give him a purpose of his own. While I like what was said about Pym, I'm not entirely convinced that I believe it and that the categorization made of him, Reed Richards and Tony Stark are as rigorous. In the case of Stark, he is an engineer and that works well. But the difference between an scientist and an explorer is not that wide. Isn't science about the pursuit of knowledge? What then is the difference between a scientist and an explorer? Another issue that I would have liked this issue to deal with is how smart Pym is. For a guy that can create sentient artificial intelligence, travel dimensions and do a lot of other exotic scientific stuff, he sure has low esteem. Any of these the things he's done in the past would make him a man whose brains have to be respected. Just how smart is he in comparison to Reed Richard?
I like the break in artist this issue. The artwork is more solid and crisp. The inking is clean. Khoi Pham is a great artist, but he was starting to use shortcuts in his work. A new artist has a tendency to reinvigorate a series and makes us think it might be more fun than we expected. Considering the job that was done to present Hank Pym as a major force in the Avengers, It was good to see so well handled visually.
Rating: 9 /10
Last Updated: January 24, 2022 - 11:00