Comics / Comic Reviews / More Comics
The Manhattan Projects #1
By Andy Frisk
March 7, 2012 - 16:29
Robert Oppenheimer has an evil twin named Joseph. Joseph is a serial killer of the Jeffrey Dahmer persuasion. When the Department of Defense recruits Robert Oppenheimer to develop the a-bomb, they unwittingly end up giving free reign to Robert's deranged twin brother. Joseph will be exposed to the super-science projects that are going on behind the façade of The Manhattan Project as a project solely dedicated to developing an atomic bomb. In actuality, the Western World's greatest minds are researching projects like the "mining of pan-dimensional space, divergence engines, discarded space, and artificial intelligence" and have many telepaths on hand amongst other…things. The Americans aren't the only ones dabbling in super-science though. The Japanese, emboldened by their attack on Pearl Harbor, launch a Red Torii that's "Zen-powered by Death Buddhists" and contains humanoid looking robot "Kamikaze Killing Machines" designed by Soichiro Honda that have "a twelve horsepower engine, a one gallon onboard fuel storage capacity" and kill with great efficiency. Meanwhile, another great mind, Albert Einstein, remains locked in a room until the weapon fetishist and three star general who heads up The Manhattan Projects is "damn good and ready" to let him out. Seems like Albert upset the general…perhaps by being the only voice of reason in The Manhattan Projects? Only time will tell…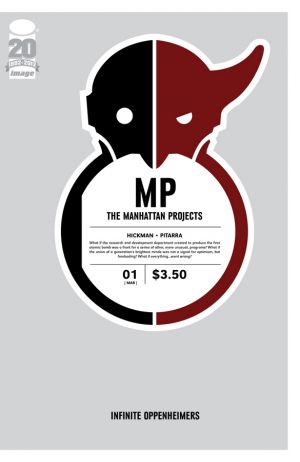 "Infinite Oppenheimers,"
The Manhattan Projects
first story arcs opens in grand Hickman style by throwing many potential plot threads at the reader while keeping the forward plot movement rather slow in order to build reader interest and long term commitment. The only problem is that not much really happens in this first issue, because so much must be set up, and casual readers, or those new to Hickman's brilliant writing, might be put off. Don't be. With Hickman, patience pays off (most of the time-still waiting on a resolution to
S.H.I.E.L.D.
though). Hickman has had free reign to mess with some of the Marvel Universe's founding members, and has done wonderful and interesting things with them that has injected them with new relevance. Now he's taking on real world characters and their fictional counterparts and siblings. Imagine the fun, trouble, and relevance he can get into here. If he ends up inspiring some readers to actually delve into the real history and figures that he is fictionalizing then that's all the better. Yes,
The Manhattan Projects
might just end up being as educational as it will be entertaining.
Hickman's partner in crime is once again Nick Pitarra, the artist who worked on Hickman's
Red Wing
. Pitarra himself has
described
his art as "Frank Quitely/Seth Fisher/Geoff Darrow/Moebius-driven type art," and his own self-description couldn't be more spot on. He does an excellent job of recreating the visages of real life people like Oppenheimer and Einstein, while coming up with convincing looking period figures like the general in charge of the Projects. His background detail and imaginative realization of Hickman's wild ideas is also spot on. The two work together very well, and the sky is the limit with where this story will go visually based on the small sampling of weird science we're exposed to in the first issue alone.
Overall, and as is the case with most Hickman projects (pardon the pun),
The Manhattan Projects
looks to be a series that will require some patience on the part of the reader as Hickman unfolds his grand master plan of a story, but as is the case with most Hickman projects,
The Manhattan Projects
will most likely end up being another of the great string of intelligent and worthwhile indie-like comics that Image Comics is renowned for these days.
Rating: 9 /10
Last Updated: May 19, 2020 - 12:25