The Killer #2
By Jason Mott
Jan 26, 2007 - 16:05
Archaia Studios Press
Writer: Matz
Artist: Luc Jacamon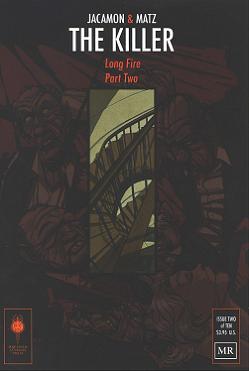 Last issue, we got to "Say hello to the bad guy." We watched the banal, trite, often exploited assassin cliché rise from the dead and spit in the face of what we expected from a story about a hired gun. In issue two,

The Killer

reminds us exactly why men with guns are seldom welcome in our lives, reminds us why men with guns, like downed power lines still arcing and roaring like dying serpents, are something to keep a watchful eye on.

The Killer #2

picks up directly from issue one and finds our (still nameless) antihero, after hours of waiting and watching and strolling down the darkened, back alleys of psychosis and sociopathic logic reminiscent of Brett Eaton Ellis's

American Psycho

, finally pulling the trigger on his latest assigned mark. Combining eerie, unsettling psychological complexity with the most high-tension, white-knuckled, anonymous-blonde-haired-gunman action seen in Europe since Sergio Leone imported Clint Eastwood,

The Killer

could be up to something big.
Written by Matz, issue two of The Killer is just as ordered, planned, and seductively disarming as issue one. Where issue one began our protagonist's descent into madness, issue two gives us ringside seats to the destruction of his inner psyche. Early on, we're presented with a violent dream sequence that is as telling and baffling, attainable and impenetrable as anything Freud could have imagined. We also receive a bit more of our assassin's back story. We watch as he remembers a former "hit" that began badly and ended abysmally but, somewhere in between, there was blood and fear and a glimpse into the reason why justice is so desperately desired, yet so rarely found in society. If Matz loses any points in this issue, it would have to be from excessive "seed planting." More than once Matz begins us on a road that promises to tell us something deeper and more personal about our blonde-haired killer, only to shy away at the last moment and leave us with the sense that, at some point in the future, things will be explained. Here, Matz is playing with a double-edged sword. While "seed planting" can mature wonderfully and make for rich, satisfying storytelling, it can also create expectations and promises that few writers can fulfill. Only at the end of this journey will we know whether or not Matz can live up to all of the potential and intrigue he's promising early on.
Not to be outdone by Matz, Luc Jacamon keeps his intensity and creativity flowing with this second issue. Jacamon manages to balance the reductive with the excessive. He will boil down the art of one page to only a few lines and even fewer colors, only to use the very next page to launch into an experiment in light, line weight, and contrasting visual dynamics that seems to want to give the artwork of Frank Miller's Sin City a nod of appreciation. Jacamon's best moment here comes in the middle of the book where he uses some creative methods to "fracture" the panels to resemble sleeves of glass that refract and distort the assassin's world just as his mental instability reaches a crescendo. However, like Matz, Jacamon does get a slight reduction in praise due to some rather choppy and disjointed paneling that occurs towards the very end of the book. But this happens briefly and is quickly resolved.
At the end of the day, slowly but surely, panel by panel, one issue at a time, The Killer is taking back the hired gun story and may, just may, be stalking greatness.
Overall score: 9 out of 10 for this one. Just shy of a full clip.
Last Updated: Dec 19, 2017 - 22:52