Comics / Comic Reviews / Marvel Comics
The Invincible Iron Man #11
By Andy Frisk
March 12, 2009 - 13:10
The Invincible Iron Man has been a pretty good read thus far. We've seen Tony Stark, aka Iron Man, fall from grace along with S.H.I.E.L.D. to be replaced by Norman Osborne, the past and surely future, Green Goblin, and H.A.M.M.E.R., the world's new global law enforcement/protection agency. In issue #11 we get a mock battle between Tony/Iron Man and his friend James Rhodes/War Machine, which ends up with Tony, purposefully losing, and falling into the ocean, setting up an encounter with, whom else, Namor in the next issue. Namor is now working with Osborne, as it so seems. Perhaps one of the most interesting, and looked forward to aspects of this story line though, is Pepper Potts' (Tony's former secretary, and now appointed head of what's left of Stark Industries) own Iron Man (Iron Maiden?) armor suit, which she eagerly begins training to use.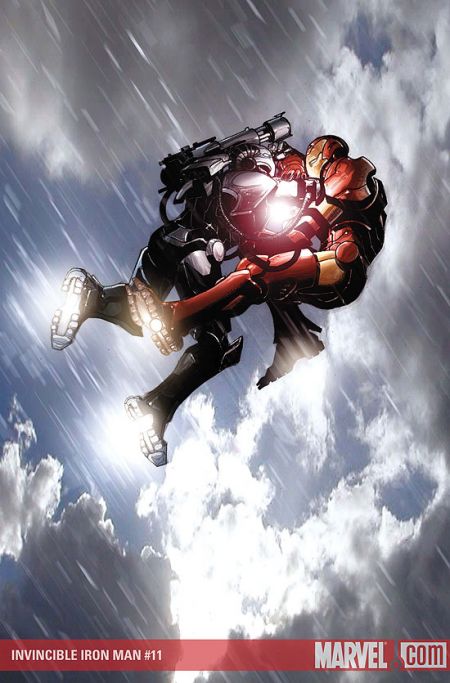 This issue ties in very solidly with what's going on in Marvel's event of the year, "Dark Reign," which is also shaping up to be a pretty good read as well. With the sinister Osborne at the helm of the world's most powerful espionage/law enforcement/protection agency, you know that things are gonna get scary, and they do here.
This series, along with War Machine, are perhaps the best two drawn series for techno-philes from Marvel. Laroccas's pencils and layouts create a world filled with highly detailed technological underpinnings, readouts, and details of the Iron Man and War Machine armors. Computer screens glow with life like resonance, and repulsor rays crackle visually. You can almost smell the gun oil lubricating War Machine's guns, as well as the sharp electric burn odor that would emanate from the two's armor suits when breached, or hit by repulsor rays.
Overall, The Invincible Iron Man is, again, a well drawn and written series, that continues to build to the inevitable climax "Dark Reign" will encapsulate.

Rating: 9.5 /10
Last Updated: September 6, 2021 - 08:15