The Gallows

By Geoff Hoppe
October 19, 2015 - 23:15
The Gallows is a found footage horror movie about a killer whose weapon of choice is a noose. It's also a written-directed-produced-by-special where two people— Chris Lofing and Travis Cluff—did all of those chores. And chore this movie is.

SPOILER ALERT. Like it matters.

The marketing for this movie played up the whole nooses-are-legitimate-weapons angle. "JASON HAD HIS MACHETE…FREDDY HAD HIS CLAW…CHARLIE HAS HIS NOOSE," they said, or something to that extent. I'm not bothering to look it up. On top of the fact that Charlie's not going to make it into the horror canon, did the writers not realize that nooses are difficult, unwieldy things to use? They require a lot of space, too. You think a machete requires room to swing? Try encouraging your victim to wait long enough for you to 1) find a sturdy tree and/or crossbar, 2) tie the knot, 3) stand still long enough to get it over their head, and 4) possibly have them hit the ground, annoyed and very much alive, because you didn't do the knot right in the first place. In that spirit, here's…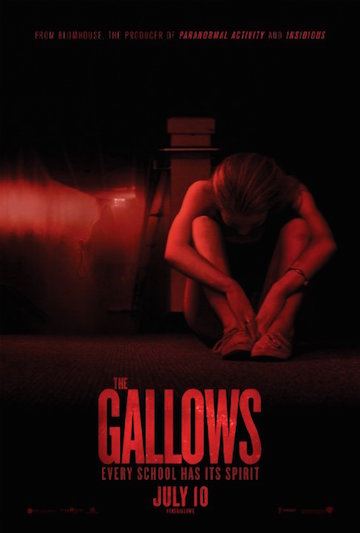 Murder weapons that are both scarier and more practical than a noose within at least ten steps of where I'm sitting:
> The fork in the bowl of broccoli I didn't finish
> The blender, if I have a long enough extension cord
> The microwave, because radiation
> The fridge. You can't open those things from the inside.
> The three-year-old Reese's pieces in my pantry (don't ask)
> My Keurig, if I can get the little stabby thing that punctures the K-cup out
> Um, knives
> The crushing existential knowledge that this film is technically part of the same narrative heritage that includes Homer, Vergil, Milton and Faulkner
That said, most of Charlie's kills take place in a theater, so he doesn't have to do the legwork of herding his victims towards noose-friendly spaces.
The "Editors' Notes" for
The Gallows
on iTunes are hilariously enlightening, and should have warned me away from renting this film. The editors' description reads like those best-of-Craigslist posts where someone is obviously trying to get rid of something they hate. It mentions that the setting is a play's backstage, "where are there plenty of dark corners and places for creepy, jumpy things to hide." Creepy and jumpy?! Well sign me the hell up, a monster worth two adjectives HAS to be good! It continues, "we may be wondering why the school would put on a haunted play that once resulted in the accidental death of a student, but once the horror starts, it no longer matters." This is either incredibly passive aggressive editorializing, or someone who has absolutely no idea how to sell something. Think of the same logic applied to, say, the Halloween Whopper: "We may be wondering why a fast food chain would serve a product that turns your poops Linda-Blair-vomit green, but once the hasty dash to the bathroom starts, it no longer matters." See how the rhetoric collapses like a cardboard box under a hose, or that program to train and equip Syrian rebels? When I saw the film, though, I realized that the Editors' Notes made sense. This wasn't a joke. It wasn't a ruse. It was like I was trapped in my own awful episode of
The Twilight Zone
, the final recognition slowly dawning on my horrified, damned face.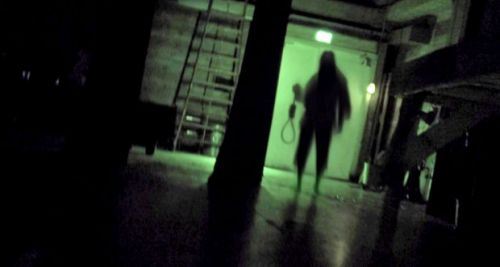 Anyway, plot synopsis: Reese, Ryan, and Cassidy, three high school stereotypes, try to sabotage a play Ryan's in the night before the first performance. The play, also titled The Gallows, was performed twenty-three years prior, and included an accidental death at that performance. Charlie, the accidental death in question, now haunts the theater. The aforementioned sabotage goes awry when Pfeifer, the play's star, catches them in the act. Then Charlie finally gets down to business, the doors won't open, things get spooky, and Ryan and Cassidy whine, then die, sadly in that order. All of this is interminably padded by wandering around the school and not really putting forth much effort to find ways out. On top of this, when the kids find out their cell phones don't have any reception, they cease checking them. For a movie with serious deficiencies of logic, this is the biggest leap. These are sixteen-year-olds. They don't stop checking their phones.
The only legitimately scary moments depend on immersion and darkness. In several places, characters walk slowly down dark hallways as noises echo in the distance. There's tension, but it's devoid of intelligence. I like found footage when it's good. Good found footage horror like
Rec
,
Blair Witch
or
The Last Broadcast
, however, all do intelligent or gutsy things with the format. They justify its use. They depend on judicious editing like
Blair Witch
, or, like
Rec
, pace themselves relentlessly, or, like
Last Broadcast
, really interrogate the value of perspective and verisimilitude.
The Gallows
contrarily leans on found footage to support a dull story.
Sadly, that story could have been more interesting. The final plot twist is that Pfeifer is Charlie's daughter, and she's getting revenge on Reese, whose father backed out of the original performance at the last moment, which meant Charlie wound up playing the part of the be-noosed man, which led to his death. If I bring this up in an abrupt and convoluted fashion, so does the movie. The revenge angle isn't bad. With more thought put into the writing, this final reveal could have been scary. As it's presented, it feels like it's interjected to tie up loose ends.
Seriously, though, I'd like to see a serial killer whose thing is shoving people into fridges. That would be worth watching.
Worth the money?
Would it be sacrilegious to hold a requiem for the four dollars I spent to rent this?
Last Updated: March 10, 2022 - 22:00