Comics / Comic Reviews / More Comics
The Boys #40
By Josh Dean
March 4, 2010 - 21:01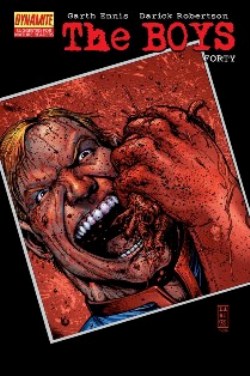 full
The Boys started life at DC's Wildstorm imprint and was ditched rather early in its run. Luckily for fans of Garth Ennis and his uniquely skewed view of super-heroes, Dynamite stepped in and kept the series running. Thank goodness for that, because Ennis seems to be knee-deep in another classic run.
The premise is simple; Ennis dissects the abuse of power using analogues for recognizable heroes. The Boys are a group, created by one of Ennis' trademark bad-asses named Butcher, designed to keep heroes in line through intimidation and violence. So far we have seen a sex-addicted Batman/Iron Man stand-in, debauched X-Men clones and a mega-crossover which is actually just an excuse for a drug-fueled orgy. Wee Hughie, the character that acts as the audience surrogate, has been learning the ropes and the secrets of this world for the past three years or so. Along the way, he has begun seeing a girl who is secretly a member of The Seven (the Justice League-style primary super group in this world). Last issue, The Butcher discovered that Hughie is dating a super-hero and has decided Hughie may be a traitor.
As a subversion of super-hero comics, The Boys hits all the right bases. The super heroes are selfish and vile while our protagonists would probably be the villains in any other comic. As Ennis has a reputation for letting any and everything happen to his characters, no one is safe in this title. Hughie and Butcher are on a collision course while events outside the team are coming to a head with the giant corporation that created all the heroes. This issue also sets up a refreshing change of pace in that Ennis introduces a super team that is seemingly made up of decent and helpful kids. It is easy to see that Hughie will be sympathetic to them as he is not embittered or cynical like the other Boys.
Darick Robertson continues his stellar work on the title. Some pages seem a bit rushed compared to earlier issues but no one draws a kill crazy rampage quite so well. There is a sheer goofiness in the Super Duper team that Robertson grasps wonderfully while still making them realistic in the world of cramped cellars and busy train stations. Like Kevin Maguire, the man can also draw facial expressions to beat the band. Backgrounds (or lack thereof) are a bit of a weak spot but Robertson makes more effort than most modern comics.
If you haven't been reading the series, this issue will make little to no sense, despite being the start of a new arc. With very little action and lots of talking, one should already be invested in the characters to really enjoy this issue. Catch up in the trades and join the ride Ennis has planned, it is sure to fascinate.
Rating: 7 /10
Last Updated: June 19, 2022 - 19:52