The #Binquirer: Recapping the Image Expo
By Zak Edwards
July 24, 2014 - 10:04
Hello and welcome to the first proper day of the San Diego Comic-Con, the biggest and most anticipated comic convention in the whole freaking world. But first, we'll start with recapping the Image Expo.

Yesterday, Image Comics thought to preempt everyone else and hold a mini Image Expo, the second of the year, to announce 12 new creator-owned series and one digital series now getting a physical release. Creators include stars like Jeff Lemire, Sean Murphy, Warren Ellis, and Becky Cloonan. Here's the books that were announced, all in a handy list. Previews of some of these books are available over at Comic Vine.

Injection reunites Moon Knight team Warren Ellis, Declan Shalvey, and Jordie Bellaire for what appears to be about the world going to pieces, or "bubbling into chaos" as the press release says. Not much else is available.

Tooth and Claw by Kurt Busiek and Ben Dewey is a fantasy series about a group of wizards who try and bring a hero through time to save the world. The series will debut on Nov. 5 and promises to be a "big, sprawling adventure about animal people."

Rick Remender and Sean Murphy are joining together for Tokyo Ghosts, a story about media conglomerates. In Remender's own words, the series charts the consequences of major corporations influencing the law, an "exponential increase" of people's current digital lives. As expected, the series looks gorgeous with Murphy's art and is due out next year.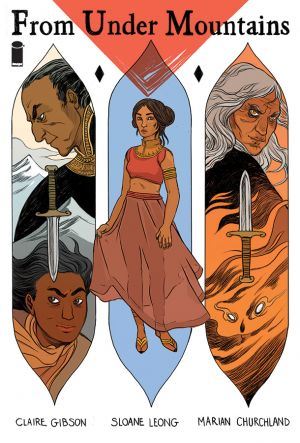 From Under Mountains
is a new series by Marian Churchland, Claire Gibson, and Sloane Leong that takes place in the
8House
universe. It'll be about "the struggle for power and supremacy" in a completely isolated country.
From Under Mountains
is due in the spring.
Joe Casey and Paul Maybury have a series called
Valhalla Mad
about gods coming to Earth to party. It will be noticeably "lighter" than Casey's other recent output at Image. No date has been set for this series.
Becky Cloonan and Jordie Belanger have a sci-fi mystery series called
Southern Cross
for a "wintery" release. It's being described as a cross between
Robocop
and Stephen King, following a woman's journey to a refinery moon the truth about her dead sister.
Jeff Lemire and Dustin Nguyen's
Descender
sounds like
Blade Runner
from the android's perspective, following one robot's struggle to not die (stay alive?) in a universe where "androids have been outlawed and bounty hunters lurk on every planet."
Gabriel Hardman and Corinna Bechko's
Invisible Republic
is a "huge passion project" about "one man's rise to power after an unspeakable act of violence." Both creators described it as a sci-fi story with
Breaking Bad
elements, but promise it will stay very grounded and character focused.
Invisible Republic
arrives in November.
Gabriel Hardman's digital series
Kinski
is coming to Image as well. The story is a quirky crime thriller about a man who finds a puppy and, after discovering its owner is neglectful, goes on a righteous crusade.
Kinski
will be released in November.
John Arcudi and James Harren's
Rumble
promises to be like a Louis C.K. show directed by David Fincher with inhuman characters. Neither creator was on hand for the presentation but it sounds interesting at the very least!
Ivan Brandon and Nic Klein announced
Drifter
is about a spacecraft crashing on a deserted planet. The series "combines the dark wonder of a strange and alien landscape with the struggles of an abandoned and lawless frontier town." The series is out Nov. 12 and promises to explore the "dirty hands it takes to build a future."
Ray Fawkes claims
Intersect
could only be published by Image. He also claims the story will be very body-focused, like a Cronenberg film with elements of David Lynch's surrealism. From the preview, the series is about merging and shifting bodies and the melding of ideas, language, and sound. Like
Embassytown
but more hardcore.
Tom Neely and Keenan Marshall Keller are teaming up for
The Humans
, a story that follow a bunch of trouble makers as "they fight and fly down the road to oblivion on a ride filled with chains, sex, leather, denim, hair, blood, bananas and chrome." The series was originally going to be self-published, but Image managed to convince the creators to release it with them.
Last Updated: September 6, 2021 - 08:15