The Binquirer, July 30 Edition: Anaheim, CA, under martial law; Is Disney to blame?
By Dan Horn
July 30, 2012 - 11:19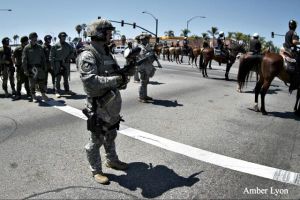 courtesy of Amber Lyon
If you'd been following the news from California following Tuesday's Anaheim riots spurred by a protest of a nonexistent police force continuum that lead to two fatal shootings of suspects in the Southern California city, chances are you haven't been getting much accurate information on the current state of Anaheim since the riots.
The riots were eventually quelled, and a mother of one of the men shot to death by police called for an end to the violence. Peaceful protests around the city's police headquarters proceeded, but when a picket line along Harbor Blvd got too close to Disneyland, something unprecedented and unnerving happened: a paramilitary police force, stripped of names and badge numbers, wearing urban-camouflage utilities, and outfitted with a combat load and assault rifles, emerged to blockade the world-famous theme park.
News sources like the L.A. Times simply report that riot police formed the blockade, but that's incredibly misleading, and the reports say nothing about the paramilitary forces patrolling the city streets of Anaheim itself en masse. User-generated communiques on social networks and videos and photos uploaded to sites like YouTube depict heavily armored black vehicles, with paramilitary troops riding on outboard foot-rails, patrolling civilian communities, making arrests, and blockading public roads.
These "police" look like National Guardsmen, and some have been photographed with grenade launchers, ostensibly loaded with tear gas canisters, M16-A2 assault rifles, and tear gas paintball guns. They bear simple vests or patches emblazoned with "POLICE" over their camo flak jackets. It looks like a military occupation, and they are carrying out a directive reminiscent of urban combat in the Middle East. You're hearing this from someone who saw this sort of thing in Afghanistan.
It's no wonder that accurate news cables have been squashed in Anaheim. Emmy-winning photographer and correspondent Amber Lyon captured images of a reporter who accompanied her having his press ID turned away by police who then asked for identification that would prove residency in the city.
Last Updated: September 6, 2021 - 08:15