The Binquirer: Canadian Thanksgiving Edition
By Zak Edwards
October 14, 2013 - 12:21
Hello and welcome to the latest incarnation of the Binquirer, where we give you a roundup of news you want to know about from TV, Movies, and of course Comic Books! Every weekday, we'll provide you with the biggest news in easily digestible chunks. Want to know more? Just click on the links provided!

Today is Canadian Thanksgiving, a day where we all huddle together in our neighboUrhood's biggest igloo and chow down on Canadian delicacies: namely maple syrup, back (Canadian-style) bacon, and a healthy amount of ethically-sourced whale blubber, for the anti-oxidants.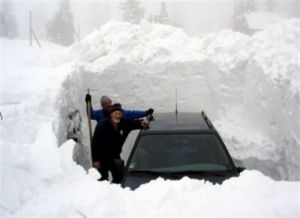 A typical Tuesday in Canada.
So today's Binquirer is less a news roundup and more an admission that I will be spending the day navigating the great Canadian wilderness by dog-sled, getting festively intoxicated, and eating a whale's share of turkey, all the while reflecting on what I am most thankful for, including a working government (take that, America!), a boss new toque, and my hoser of a brother, whose house is the biggest igloo in town!
To that end: enjoy your normal day of work, most of the world, some of us Canadians here at the Bin will be braving the ever shifting snowscapes, thinking about Leigh Alexander's always relevant
thoughts on gaming culture
,
Kingdom Hearts 2.5 HD Remix
, which was announced today, and the New York Comic Con's unapologetic apology for knowingly
violating attendees' privacy
.
*Traditional Canadian Whale Call*
Last Updated: September 6, 2021 - 08:15