Television vs Comics
By Alexander Jones
October 11, 2012 - 03:28
The following contains many spoilers
Lost
,
Ex Machina
,
Y The Last Man
, and
Buffy The Vampire Slayer
. Television has many strengths that overlap with the medium of comic books. Both mediums have things in common and separate strengths and weaknesses. One creator who has a left a mark in both mediums is Brian K. Vaughn.
Vaughn is known for writing Y The Last Man and Ex Machina along Saga. Vaughn's comics have all been very critically well received and have ended up selling high numbers for all of his comic books. Since these comics don't have major super heroes they often tend to function more like a serialized television format. Vaughn does something very interesting in his comics, he has a strict five to seven year plan for every story.
That means he has a plan for the ending. His endings are large they are beautiful and poetic. It gives the feeling that there is a grander message hiding in the comic book and it only truly shows towards the end.
Ex Machina's resolution is truly bombastic. It says something simple and eloquent about the state of current politics and examines them in an interesting lens.
The ending of Lost was not concise at all. It confused many and wasn't a clear exact resolution to the show. The individual's story lines and threads weren't resolved. That led to the same sort of episodic structure of Vaughn's comics. One of the negatives of television is the incredibly difficult balancing act of not knowing how many exact episodes the show will be, or even seasons the show will have. How is it even possible to resolve the all the narrative threads into a completely satisfying when you are unaware of your production schedule or renewal.
The answer is simple have a beginning and an end before you start writing any sort of long form series. In the television show Buffy The Vampire Slayer the ending was not clear it was more abstract. Yes the ending of Buffy was creative and ambitious, but the real question should be is it satisfying. Most fans will tell you no the ending did not wrap up any o the loose threads between the characters or some of the struggles all of the characters were dealing with. Becoming emotionally invested into a series for several years is a risk. At the very least the audience should be rewarded with a satisfying resolution. There is also a danger of comic books not staying on the market or being cancelled. Or in the case of Marvel and DC Comics, creative teams changing. With all of these risks on the modern market creators must be prepared for every single disaster scenario that could occur. Vaughn claims he writes from a very strict outline of what happens in each issue. Vaughn also has stated that if necessary he could deviate from the well laid plans.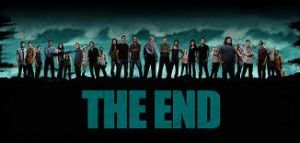 In modern television the risks and stakes are often not high enough in a story. You know that all of the characters for the most part are safe so the sense of danger is virtually non-existent in Vaughn's comics the body count is high and suspense is almost maddening. Towards the end of a long comic that Vaughn has written the stakes are raised and the body count is steeper. Truly fearing for a character's life is an engrossing feeling and one that will keep you invested in almost any storyline. A true ominous danger can be defeated in any story but if there is no true emotional fallout the resonance will die.
Last Updated: February 5, 2023 - 09:06