Suzuka Volume One
By Julie Gray
Nov 28, 2006 - 1:44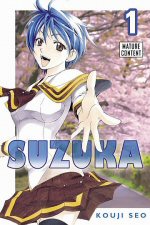 Suzuka Volume One Cover
"She's so cool!"
Suzuka: Volume One is a manga all about a schoolboy's crush on a girl that is way out of his league. At first, we thought this manga would be a little risqué and nothing much else. As we read through the manga, we realized that although the manga is based around one boy and his almost obsessive crush on a girl he doesn't know, the characters are quite likeable and the story works well.
We really do enjoy reviewing the first volumes in any manga series. There's something very cool about being able to enter unknown territory when you read something new. The first volume of Suzuka was definitely not what we expected and is also the first M 18+ rated manga we have reviewed this year. Although the manga shows a little nudity, it's not entirely unwarranted and does add to the story in ways that would probably leave the story a little flat if it was otherwise omitted.
Nudity aside, the characters portrayed in the manga are interesting enough to keep reading. The two main characters are Suzuka, the namesake of the manga, and the boy who falls for her, Yamato. Right from the beginning, Yamato is infatuated with Suzuka and at first, you're not quite sure how this infatuation with Suzuka is going to develop. After Yamato sees her for the first time, he finds himself constantly thinking about her and then, without warning, he is suddenly face to face with the girl of his dreams. The only problem is that Yamato has only recently arrived at his new home, which just happens to be an all-girls' boarding house. And when Suzuka finally shows up, Yamato finds himself in, shall we say, a rather compromising position with one of the other girls in the house.
The storyline seems to heat up pretty quickly and one can only feel sorry for poor little Yamato, surrounded by so many attractive young girls. As it turns out, Yamato only has eyes for Suzuka except Suzuka wants absolutely nothing to do with him! On top of that, two of the more precocious characters in the manga, raunchy and risqué Saotome and her clumsy sidekick Megumi, are bored with life and manage to find Yamato interesting enough to tease at the worst of times.
The characters in this manga are well developed and it's obvious from the beginning that Suzuka and Yamato seem very ill matched. As the manga progresses, we get to see a little more of Suzuka's personality and we also begin to understand some of the pressures she is under as she faces her worst fear; losing the championship title in high jump. In the most round-a-bout way possible, Suzuka and Yamato somehow end up going shopping together and Yamato begins to doubt his feelings for Suzuka after experiencing her personality first hand.
To throw a spanner in the works, Yamato's childhood friend, Hattori, happens to show up on the scene. There is an instant tension between them as Yamato begins to feel a little jealousy towards Hattori. We're dying to see how the character relationships develop and we think that this manga series is shaping up to be something quite fun to read.
The characters are interesting and have substance, especially Suzuka, who seems to be an odd character to figure out. And that's all the more reason why Yamato finds himself so intrigued by her. We're intrigued too and we hope the Suzuka manga series continues on the same wild and whacky path it's on now.
Suzuka: Volume One includes extensive translation notes, a note from the author and some neat additional 'Four Panel Theatre' storyboards in-between chapters. If you want to check out this manga, the Del Rey website is here. There is also a sneak preview of Suzuka: Volume Two included in the manga in original Japanese.

Art Work: 8/10
Story: 8/10
Overall Rating: 8/10
Contact the author: Julie@thecomicbookbin.com
Last Updated: Jun 26, 2018 - 9:28