Comics / Comic Reviews / DC Comics
Supergirl #50
By Andy Frisk
February 21, 2010 - 16:53
Death is never final in the world of comic books, so it was simply a matter of time before Lucy Lane/Superwoman rematerialized, literally. The circumstances surrounding her rebirth will have a serious effect on not only her life, but those of her father, Lois, and Supergirl. Meanwhile, Lana Lang, who suffered her own "death" in the last issue, gets a new lease on life as well, but it will take a lot of work on Supergirl's behalf to ensure that Lana survives her return…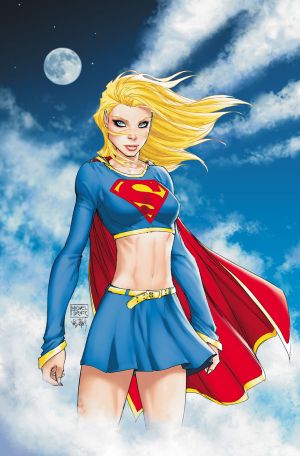 The late Michael Turner's cover image.
Sterling Gates continues to make a character who really hasn't been the strongest of protagonists over her several decades in print into one of the most engaging and endearing characters in all of the DC Universe. Kara Zor-El/Supergirl is such a dynamic character in Gates' hands that she not only carries her book, but is such an integral part of the modern Superman mythos that she is inseparable from it. As readers, we can't help but feel for her and in some ways identify with her as she grows, matures, and makes emotional mistakes. Her newly strained relationship with her friend and mentor Lana, as a result of Lana hiding her terminal illness from her, and Kara's failure to understand Lana's reason for doing so, is quite realistic and representative of real life familial conflicts and hurt feelings. The hallmark of any good story is strong, realistic, and identifiable with characters. Gates is proving to be a master at writing such characters.
Speaking of masters, Jamal Igle returns to pencil this landmark issue. He really established himself as the standard bearer and defining Supergirl artist with his fantastic run on the series. His eye for detail, layout, anatomy, and overall creativity are self evident. It's a pleasure to see him pencil the character that he, along with Gates as the writer, has brought to new heights. While Igle might be the current defining Supergirl artist, the late and sorely missed Michael Turner, who penciled Kara's rebirth and helmed her through the early days of her return, posthumously supplies the beautiful cover image of Kara for this issue. Without Turner's defining work on Supergirl the character and book, Igle wouldn't have had the chance to continue Supergirl's rise to prominence.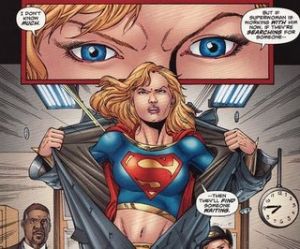 A classic Jamal Igle Supergirl image.
Overall, Supergirl remains one of DC Comics' strongest titles, and is a vital member of the Superman Family of books. It's well worth the read and monthly wait.

Rating: 10 /10
Last Updated: July 2, 2020 - 16:53