Comics / Comic Reviews / Marvel Comics
Squadron Supreme #11
By Hervé St-Louis
June 14, 2009 - 13:34
The new Squadron Supreme fights off terrorists and then attempts to locate their stronghold before they attack the new President of the United States again. But Mark Milton, the super human being known as Hyperion, confronts the heroes and their government leader, Nick Fury. After fighting them to a standstill, he wants them to leave him alone as he decides to depart the Earth.
I used to like the preceding series, Supreme Power that established this new version of the Squadron Supreme. However, back then lateness in publishing finally made me lose focus of this series and just stop collecting it. Again, I tried during the Ultimate Power series to follow on all these characters, but the series was again plagued with spotty scheduling. Here, I'm trying to rediscover a series I once enjoyed very much, but I'm not sure if I should bother. I'm not satisfied.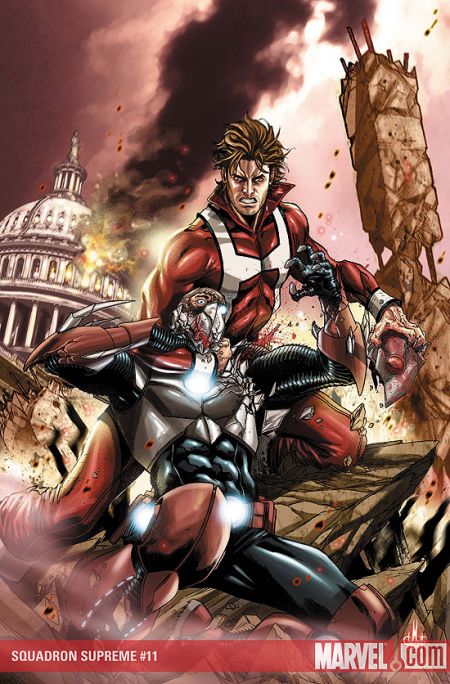 The story in this issue was tight and a lot happened. But it felt like I was reading about the Detroit Justice League, with a bunch of wannabe characters that I didn't care about while the real stars of the series are nowhere to be found. The introduction of all those super powered beings also hurt the story established years ago. It used to be that a new super hero in that universe was a great thing to witness. The appeal of the series was how would a normal world react to a new super hero team in its midst. With this issue with powered freaks running all over the place, there is nothing particular or special about this series to make it different from the average Marvel Comics series. This issue was not bad, but the series has a focused that's not appealing.
Edwards' work is good but the inking not appropriate for his style. It did not enhance his work, which is strong in storytelling and action scenes.
Rating: 8 /10
Last Updated: January 24, 2022 - 11:00