Spectre
By Patrick Oliver
October 27, 2015 - 13:10
Time flies
Ghosts from James Bonds past loom large and take substance in this fourth outing for Daniel Craig.
Advance word on this latest installment has been very positive. And having seen Spectre, I will add my own positive, if short (no spoilers here!) review.

I found this film to be utterly entertaining. There are certain things that a viewer wants from a Bond film and I can tell you that Spectre delivers by the bucketful. Breath-taking stunts, glamorous locations, high intrigue, evil masterminds, laugh-out-loud one-liners, and more, are delivered with verve and aplomb. Sam Mendes does a fantastic job here.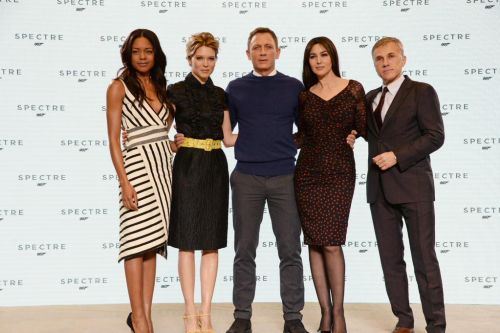 Naomie Harris, Léa Seydou, Daniel Craig, Monica Bellucci and Christoph Waltz
Bond is very definitely like a dog with a bone in this film, and with good reason as it turns out. He cuts a swathe through (a gorgeously filmed) Europe in search of the truth, with the aid of his comrades in arms. While back in Britain, the ever present hot potato of surveillance is a catalyst for change.
In Spectre, the set pieces are excellent and inventive, the cinematography is accomplished and the acting is spot on. The characters of Moneypenny, M and Q all aquit themselves very well. Spectre had a lot to do to match the wonderful Skyfall, but I think it has come pretty close. Personally, I couldn't have asked for more than that.
Last Updated: March 10, 2022 - 22:00