Sota Toys 2008 Update
By Hervé St-Louis
Jul 25, 2008 - 16:26
Sota Toys has released a few exclusive Street Fighter action figure two packs at the 2008 San Diego Comic-Con in advance of the regular models that should be coming up in a few weeks from the toy maker. The release of new Street Fighter action figures by Sota Toys has been irregular for a few years, and The Comic Book Bin had a chance to discuss these issues with Sota Toys' Scott Akers.


Murphy's Law says that when trouble starts, it only get worse. That could probably explain the lack of Street Fighter products coming from Sota Toys. Besides the fact that they've had a running bootlegging problem with their Street Fighter action figures, there has been some other production issues which when combined together, really tests the patience of Sota Toys' Street Fighter collectors.
One of the old plants in China that used to manufacture Street Fighter action figures for Sota Toys has been selling bootlegs for a few years now. Even at the San Diego convention grounds, I was able to see many early releases of Street Fighter action figures that should be sold out for sale from individual merchants. These action figures should not be in circulation. However, Akers says that Sota Toys has no legal protection or control over what Chinese manufacturers do. Sota Toys only has recourse over importers who bring in the toys in a market where Sota Toys' Street Fighter license is effective. But it is difficult to identify who imports these toys and going after individual retailers is not a viable solution.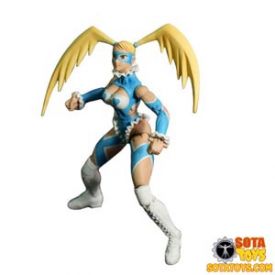 Speaking of toy manufacturer, when Sota Toys changed plant, the new one had to learn how to make articulations for the Sota Revolution line of action figures. The plant was used to making MacFarlane action figures with limited articulations. The new Street Fighter articulations from Sota Toys introduce some new articulations that have never been used before. For example Dhalism's arms have a new rotating joint. Thus the production process to make the action figures has been longer than before.
While the new Street Fighter action figures are due to be released in mid-August and September 2008, the market for action figures has changed considerably from what it was a few years ago. According to Akers "the action figure market has shrunk." Tower Records which used to be one of the largest client of Street Fighter action figures has gone out of business."
The cost of materials is also a huge concern for Sota Toys. Within a typical five month period, the cost of materials will increase and plans will change on how they, the toy maker, can market its products. For example, the manufacturer in China has asked Sota Toys for a fee increase after accepting an initial quote earlier. Akers says that "profits in the action figure business are rare unless a company unless a company is working with a bigger license."
Although Sota Toys can raise the price on its action figures, both retailers and customers are wary of expensive items. This explains in part why Sota Toys is increasingly focusing on larger items with smaller production runs of 500 samples that can quickly be absorbed by the high end collectors' market. "High value items are easier to sell than 50,000 pieces of a cheaper action figure.
However, much of the market for Street Fighter action figures is different than the one that goes for some of the higher priced items that Sota Toys does produce, like the Now Playing statues. "There is not much crossover by fans," according to Akers.
Still, the although the Street Fighter action figures sold at the Comic-Con are exclusive, collectors will be able to order the regular version and some variants from any other comic book or hobby store that uses Diamond Comics as a distributor.
Last Updated: Jun 26, 2018 - 9:28