Comics / Comic Reviews / More Comics
Snowed In
By Andy Frisk
February 7, 2012 - 19:22
Todd, Clint, Julie, and Amy planned to spend a relaxing snowed in week in a cozy little cabin in the woods. What they ended getting was one night filled with terror. Just as things were getting downright snuggly, Julie's ex-boyfriend Andy shows up unexpectedly at the door begging to be let in. Andy ended up in Julie's neck of the woods after paying an unplanned for visit to his uncle, who had a cabin nearby, and discovering him dead. It appears, according to Andy, that a mysterious "it" had gotten to him. What this "it" is, Andy can't say, but "it" is coming from him, Julie, and her other friends. Or so says Andy…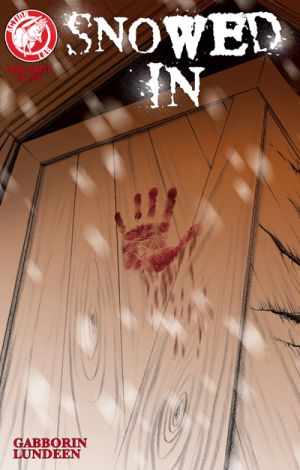 Writer Shawn Gabborin and artist Rick Lundeen weave a tense and chilling thriller that at first appears to be yet another teen slasher flick rip off, but ends up being more akin to a Hitchcockian thriller. Whatever is hunting Andy and, by extension, his ex-girlfriend and her friends is never shown. Blown out windows, singular snowflakes, and mysterious trails of snow are all we ever see of "it." Is "it" some strange of psychically draining or emotionally powered entity of some sort? Is "it" the aged spirit of the winter woods? Or, is "it" the very real product of unjustified paranoia and fear? Clint is a borderline obsessive compulsive with anxiety issues. Todd is a well-meaning, but jealously ridden boyfriend. Julie is either still hung up on her ex Andy, or really loves him still…to a fault. Amy, the least developed character, is the hot blonde who truly seems to care for her slightly off kilter (mentally) boyfriend…also perhaps to a fault. There's enough emotional energy between these kids to keep a psychoanalyst busy for weeks. Hence, we, as readers, never really can be sure of what "it" really is.
Herein lies the merit of
Snowed In
. It is much more a psychological escapade instead of a horror story. It is a character study much more than a mysterious who-dun-it. Artist Rick Lundeen's use of subtle body language, and his excellent grasp of facial expressions, bring these characters to vivid life, even if the entire tale is in shaded black and white. The use of a black and white color scheme is perfect as it enhances the
Twilight Zone
/Alfred Hitchcock atmospherics by bringing them both sharply to mind.
I'll admit that when I first saw the cover to
Snowed In
, I was immediately put off as I expected a banal slasher wannabe book, much like
Hack Slash
. Instead I was treated to a rewarding trip into a well plotted and executed psychological thriller, reminding me that the old adage "never judge a book by its cover" is still true. I urge you to apply the same logic to Action Lab Entertainment. They might be a small publisher, but they appear to be capable of telling big stories.
For more on Action Lab, visit their
site
.
Rating: 9 /10
Last Updated: May 19, 2020 - 12:25