Samurai Champloo – The Best Animé Series Since the Edo Period
By Hervé St-Louis
Jan 7, 2012 - 17:27
Samurai Champloo was an original animé series released in 2004 in Japan and later on the United States, Canada and other countries such as the United Kingdom and Australia. The series was adapted into a manga with loosely-based stories. It has become a cult favourite thanks to its mix of hip hop with a historical setting in Edo Japan. The series was 26-episodes and created by famous Cowboy Bebop director Shinichirô Watanabe.
Samurai Champloo is the story of quiet and composed samurai Jin, energetic and brash brigand Mugen and Fuu, a waitress in a noodle shop whose workplace gets destroyed after a fight involving Jin and Mugen. Fuu coerce Jin and Mugen to escort her and go on a trip with her for the search for the samurai who smells of sunflowers. The series follows the three protagonists as they fight other brigands, state officers, a variety of assassins and odd characters. Mugen and Jin really want to fight each other as each of them has never met a fighter so good. Will they kill each other before they find the samurai who smells of sunflowers?
This series was reviewed years ago at the Bin, but I had no idea it was so good. I recently discovered it and have assiduously rented all of the series at my local video store, with approval from the clerk who keeps telling me how this series was good. Cowboy Bebob mixed jazz with a space western theme. The formula is repeated here by Watanabe except the mix is hip hop and the Edo period when Japan was closed off from foreigners. The warring state period was over and a feudal system had taken over Japan.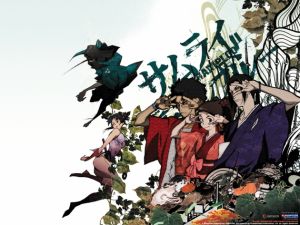 The series contained accurate references to historical settings and events during the Edo period. However, most stories center around the lack of money of the trio of travellers and their attempt to earn some money by either riding the local town of an evil samurai or performing petty duties. The humour runs high in this issue, as much as high as the foul language. Mugen who doesn't like Fuu refers to her as a bitch often. But his treatment of Fuu is not the worse thing he does every episode. Mugen has a tendency to jump into a fight and react violently to any provocation. It helps that often he has his back, reluctantly covered by Jin who is much less feisty but as accomplished as he is in the martial arts.
The series featured a theme that I like a lot – that of the master fighter facing off an array of incredibly dangerous opponents as the series progresses. Everytime I though that Mugen was the best fighter of the team, Jin came out and performed a trick that would shame Mugen. A lot of heads get cut in this series, but it's so funny that the violence becomes part of the fun. The most annoying part of the series was Fuu, who sounded like a typical annoying Animé girl – you know the type that gets on your nerve. But then, the series was built on the premise that she's annoying and that Mugen and Jin cannot stand her and would not mind ditching her, if they knew what they even had a clue about what they wanted out of life.
Soon, the past of each character begins to catch up to them and that hits a climax at during the last three episodes where each of them must face their greatest challenge. The last story-arch was three episodes long. Many other stories are to episodes and a few are single stories resolved weirdly at the end of the series. There are debates about when during the Edo period did this series occur. Because of the appearance of Americans playing baseball (yeah, I know odd), I'd say it was towards the end.
The fight scenes are beautiful. It helps that the character designs by Kazuto Nakazawa offers interesting material for the animation team to work with. Every fight is done with style and animated to a strong hip hop soundtrack perfectly. You'll have to rewind the videos several times to watch some of the intricate fights, especially those from the last three episodes of the series.
The music will get to you. It's that good – even if you're not normally a fan of hip hop. It's amazing that this is all Japanese without any American artist performing a single song. The design of the interface of the DVD set, as well as the packages was sumptuous with a mix of Edo Japan artwork with hip hop tones. The opening title was as cool looking.
The DVD release of this series was on seven discs and my local video store rented each of them separately. However, a new Blu-ray edition was re-released in March 2011 on three discs instead. I haven't been able to check out the box art to see if it's as good as the one on the DVD set. I highly recommend this series. It's really addictive once you start watching it.
Rating: 10 /10
Last Updated: Jun 26, 2018 - 9:28