Saint-Germain Vol. 1: Le Comte des lumières
By Hervé St-Louis
May 21, 2009 - 23:44
The Count of Saint-Germain is one of those intriguing French noble always in the background and to whom a lot of mischief and legends have been attributed to. Some stories claim he's the one who authored Shakespear's stories. Many say he was the illegitimate son of European monarchs – input any random name in there. Most of all he was known as an alchemist that had a very long life and travelled the world. He remains an important character and a good fodder for any type of story involving espionage, alchemy, and secret societies. Here in Saint-Germain, the Count is cast in his typical role but must serve Louis XV, King of France on a mission that involves more than people on Earth.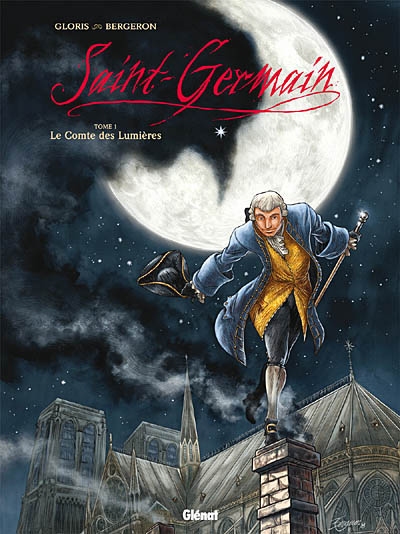 So far, this story is a nice mix of magical realism and historical play. I didn't expect to be so entertained by this story which takes the heavy handedness of 18th Century French nobility seriously. This story has everything; faithful for competitive slave sidekick; many female lovers; a mission for the King; spies; opponents poisoning food and wines; sword fights and acrobatic fighting; and court intrigue; aliens masquerading as kids. It's a crazy but ambitious story that mixes many genre. Don't be put off by the historical aspect of the series. It's a fun read that should even entertain kids wanting to learn some French – if their parents have no problems with a few female nipples appearing randomly.
The publisher of this book has high hopes for this series, having pulled nonstop to create a mini-Web site for the graphic novel, which should be a multi-part series. I'll be back for more. It's fun, action and intrigue with people wearing bleached wigs!
Bergeron is a Canadian comic book artist that I haven't heard from before but his style is totally immersed in the European style and somewhat alien to what appears in North America. However, it's still dynamic and filled with details and masterful colouring that should make many publishers this side of the Atlantic regret that they don' t spend as much money on the colouring of their own books. The pages have good layouts and enough visual tricks to suggest a second reading. It's the type of series adventured-based North American publishers would have no problems finding an audience for, once translated in English.
Rating: 9 /10
Last Updated: September 6, 2021 - 08:15