Comics / Comic Reviews / DC Comics
Robin #183
By Andy Frisk
March 1, 2009 - 20:56
In the final issue of his series, Robin gets a better understanding, which has been building over the last few issues, of the weight Bruce Wayne carried on his shoulders as Batman, Gotham's prime guardian. Robin breaks up with his girlfriend, attempts to contact the girl he really loves, The Spoiler, catches up with his best friend, possibly for the last time, worries about his "own personal Joker," Anarchy (still on the loose), and realizes that even though, "I said I'd never become like Batman. Obsessed. Closed Off. But now…I don't know if there's any other way." After making short work of Lady Shiva, through very Batman-like techniques, with his mind and not just with his fists, he realizes that he has a partner, and perhaps, a new mentor in Dick Grayson, aka Nightwing. Nightwing watches over Robin during his battle with Shiva, but doesn't and doesn't need to interfere. Robin does just fine. As the tale proper comes to a close Tim Drake, aka Robin, muses, "Gotham City needs someone wearing the cowl. The obvious candidate will step up soon enough. Until then the city has me," and "Soon…it'll be time to meet the NEW ROBIN!" In the backup "Origins and Omens" tale Robin makes quick work of the Obeah Man as well, the murderer of his parents recently released from jail and hiding out in Haiti. On the last page of the issue we get a glimpse of Robin's immediate future, which includes a possible encounter with Ra's Al Ghul, and a mysterious, Batman looking, gun wielding figure.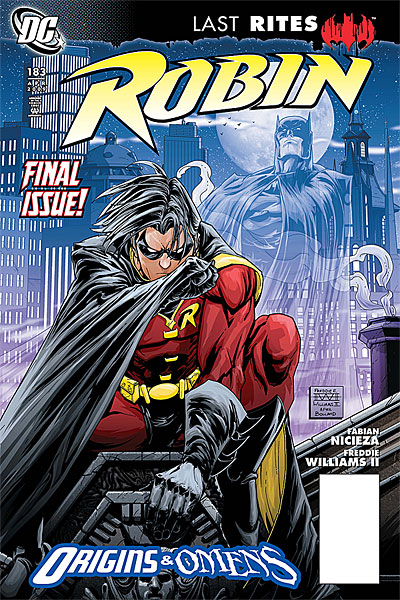 A Dark Knight looking Robin, but still in The Batman's shadow.
What's most interesting in this final issue of Robin, is the maturity of understanding of his former mentor's personal struggles with trying to lead a normal life outside the cowl, and the necessity of trying to remain as much a loner as possible to avoid hurting his loved ones. Also, the hints that seem to be continuing to be dropped, much like in Nightwing #153 (that particular series final issue, as well) that, perhaps the best candidate to take up the cowl just might be Grayson as he plays a protective, yet hands off role, to Tim during his battle with Lady Shiva, letting Tim/Robin fight his own battle, but is there to intervene should the situation go bad.
The artwork remains strong right up to the end with Williams' grasp of anatomy, great background, attention to detail, realistically detailed rendering of the hero's costumes, and grasp of architecture making each panel a joy to behold, and a feast for the eyes. Major's strong coloring enhances the pencils, and provides for great contrasts between character, costumes and background that all mesh well to form complete panels with great depth. The coloring scheme he uses to create this depth in the city's buildings as they recede down the street and away from the eye truly creates a depth perception that is quite artistic.
Overall, this long running series will be missed, but there are plenty of Robin adventures to look forward to with Battle for The Cowl looming, and Tim's introduction of the NEW ROBIN. Stay tuned…

Rating: 9 /10
Last Updated: July 2, 2020 - 16:53