Comics / Comic Reviews / More Comics
Review: Toe Tag Riot #1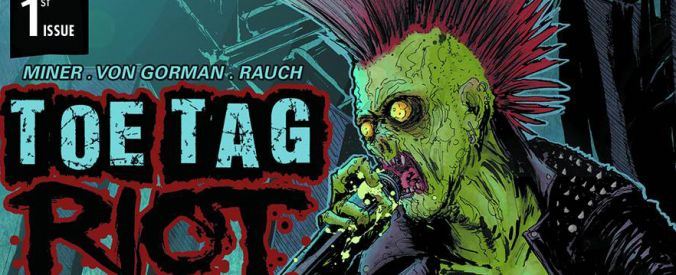 By Andy Frisk
November 30, 2014 - 00:42
What's Happening Dick "Dickie" Tagz, Paul "Paulie Propylene, Evie Vee, and Annie Maul are a traveling punk band who turn into cognizant zombies when they hit the stage. After playing CBGB (the story is set in 2004), lead singer Dickie runs into the Aryan Skinheads he berates from the stage during their show. Mayhem, to say the least, ensues...especially since their zombie curse (which eventually fades after they get off stage) has yet to subside...



The Writing Matt Miner (Liberator, Critical Hit) turns the zombie genre on its head by making the zombies not only the good guys, but not (totally) brainless as well, while calling out bigots, and, as we're promised by Miner, The Westboro Baptist Church itself, with Toe Tag Riot. Okay, it's not the first zombie book to feature zombies as good guys (witness the short lived iZombie and the current G.I. Zombie), but it really is one of the most fun. Miner moves the story along deftly, showcasing each character, a little bit of their history, and a lot of their punk ballsy-ness. We don't learn the origin of the "curse" is that is plaguing them, but we do learn that it's definitely helpful when battling Neo-Nazi Skinheads. Miner definitely leaves us hungry for more, and from what he's promised (the aforementioned showdown with Westboro Baptist Church) it'll be worth the wait...and the monthly return.

The Artwork Artist Sean Von Gorman brings this punk-fest of a (sort of) gore-fest to great DIY inspired life. Vaguely reminiscent (to me at least) to Dirk Schweinger's Moresukine artwork, but much more exaggerated in spots, Gorman's style is very underground, and very cool. Gorman portrays punk rock dress style without making his character's look cliched. As far as Gorman's future art is concerned (again to me at least) he should push the underground looking elements of his artwork even further.

The Verdict Toe Tag Riot #1 is fun, inspiring, a little grimy, and riotously loud, just like the music and individuals (fictional and real) that inspired it.







Rating: 9 /10
Last Updated: January 24, 2022 - 11:00