Moresukine: Uploaded Weekly from Tokyo
By Andy Frisk
June 26, 2010 - 21:25
Moresukine: Uploaded Weekly from Tokyo is the collected edition of the web diary/comic of blogger Kirk Schwieger's experiences while living in Tokyo, Japan and working as a translator for a Japanese software company. Hailing from Germany, Schwieger was obviously in for a bit of a culture shock, but he was determined to make the most of, or more accurately get the most out of, his time in Tokyo. Encouraging his blog readers to give him "assignments," and vowing to complete them regardless of his personal attraction or aversion to them, Schwieger was given fodder for one of the most interesting web comics ever. After completing an "assignment" from one of his readers (the "assignments" had to involve an experience with Japanese culture—high or low), Schwieger would post a web comic reporting his experience. What his readers ended up with was a uniquely interesting record of an open-minded and culturally interested foreigner's experience of Japan.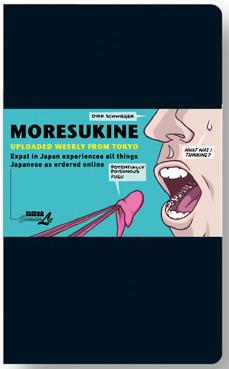 The blog's title, "Moresukine" is a reference to a native Japanese speaker's attempt at pronouncing moleskin, the type of small notebook/sketch pad that Schwieger carried around with him in order to jot notes and draw scenes from his assignments in. It's an interesting choice of a title as it could be misconstrued as a derogatory reference to the stereotypical Japanese accent that native speakers labor with when first learning to speak English. When one reads through Schwieger's comics though, it becomes readily evident that he and his strange little book are what is truly strange, and that Schwieger himself is the odd one out and about in Tokyo. The title is actually a way to poke fun at himself for being the obvious tourist and observer in a foreign land where he is obviously gaijin (Japanese for foreigner) and experiencing many things first time about Japanese culture and scribbling notes about them constantly.
Being someone who has never traveled to Japan myself, but grew up as a comic book fan during the 1980s, my adolescent ideas of Japanese culture were packed with images of ninja's, throwing stars, and samurais. (Every comic book fan of the 1980s was also, by default, a fan of Japanese yakuza or ninja "culture" considering the prevalence of these narrow aspects of Japanese culture in most mainstream comic books at the time). Obviously, as I grew and progressed through university I learned about Japanese literature, history, etc and gained a mature understanding of Japan's interesting and unique culture. Not until I read Moresukine though did I get an experience of Japanese culture from a perspective that was both refreshing in its frankness and sense of discovery, as well as and example of one that I could most likely relate to. Schwieger experiences everything from Tokyo's infamous roof top roller coasters, to para para dancing, to sword making, to sushi and fugu. The way that he documents each of these (and many more) experiences captures the unique power of sequential art to convey each and every experience visually and verbally in a way that gives the reader a unique understanding of each assignment.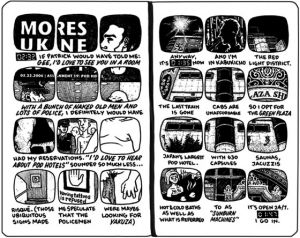 For example, his comic depicting his stay in one of Tokyo's pod hotels is told in panels that are shaped like (and restrict one's view like) the window of a pod hotel does. When he relates his experience with "telephone clubs" (which are basically Japanese versions of phone sex lines), the women he is talking to are pixilated silhouettes representing their existence as a product of the digital age. They are, in a sense, not real. Not all of his assignment reports are as visually metaphoric though. His comic on the art of origami is incredibly detailed. He very expertly recreates through his drawings the incredibly intricate representations of origami art he encounters at the Origami House Gallery in Hakusan. He also produces some very highly detailed drawings of different fashion styles he encounters during his stay that range from harajuku to shirts and sweaters that employ the "purely in ornamental use of Latin characters." When he is asked to comment on gender roles in Japan and gender specific fashion, etc, Schwieger ends up drawing a full double page fold out of a meandering and cyclical road map that really leads no where as gender fashion and rules don't seem to adhere to any type of "rules" in the eyes of a Westerner. He refers to the question on gender he receives as another one of those "PhD questions."
Schwieger's record of his experiences in Japan ends with a challenge to his fellow web comic artists to meet and engage a person from or of Japanese heritage in their hometown and report on their experience in their own web comics. The results range from the culturally interesting to the absolute asinine. This concluding section serves more as an introduction to which web comics out there are worth checking out, or completely avoiding.
Overall, Moresukine: Uploaded Weekly from Tokyo, with its faux moleskin packaging, is unlike any other collection that you'll read. It's not particularly the type of work that you'll revisit often, but it is the type of work that will inspire its readers' to learn more about the types of Japanese cultural phenomena that Schwieger reports on. It also will help you separate the good web comics from the bad through its example of being one of the best.

Rating: 9 /10
Last Updated: August 31, 2023 - 08:12