Comics / Comic Reviews / DC Comics
Review: The Silencer #1

By Zak Edwards
Feb 1, 2018 - 9:17
There's something wonderful about "The New Age of Heroes" splayed across the top of The Silencer #1, an earnestness that belies the entire 90s aesthetic of the book. It's as if the person who threw that on there believed in what they were doing, even though there's nothing new about what's inside. Even its cover has the hallmarks of the Dark-Age-gone-Liefeld-screwdriver-feet: a costume with too many pockets and guns that are simply way too big. But for all the negative reviews of the nineties in comics, there is something wonderful about its bombastic approach, and The Silencer leans into that wild abandon with giant, cracked smile.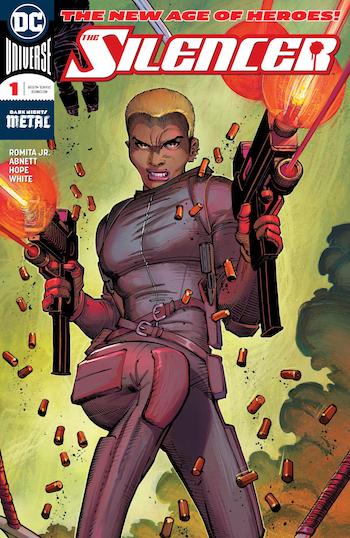 The Silencer #1 by John Romita Jr. and Dan Abnett.
At its core,
The Silencer
is a familiar story: the retired assassin (or badass or monster) is dragged back into the game. It's an old story with few variations but
John Wick
proved that you don't have to be different to be different in this particular style. You just have to be committed.
The "retired badass" or "retired monster" here is thus: Honor (I know) is a former assassin with ties to none other than Talia al-Ghul and Leviathan. There's an entire network of agents, contract killers, etc. called "the
underlife
" that she left some years ago to raise a family. Her husband doesn't know and neither does her toddler. Talia shows up, enjoys a dinner with some fantastic tension, leaves with Honor and they get ambushed by some bad guys. It's a story we've all seen before and it's a lot of fun.
More importantly, John Romita Jr.'s art is totally in on the fun, ridding itself of the outward gruesomeness of his "grittier" works for something with a bit more of a sheen and polish. Action sequences are full of energy while emotional resonance remains more in the hands of the word balloons. Romita is credited as a "storyteller" alongside Dan Abnett and you can tell Romita Jr.'s been given the space to do what he wants. Or maybe I read the text-heavy
JLA/Doom Patrol
crossover immediately after, which gave me a renewed love of the phrase "show don't tell."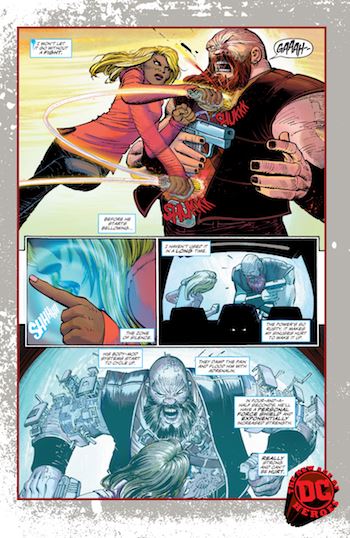 Romita Jr.'s art shines in The Silencer's action sequences.
The issue essentially rotates around three scenes: the initial fight in the parking lot, the dinner, and the aftermath of said dinner. It's surprisingly tight for how much information it conveys, another nod to the well-met team, but watching Romita Jr. flex different art muscles is perhaps more fun than anything else in the issue. The initial fight gives us a taste of Honor's abilities and power but the fight is limited to immediately behind a car. With little room to move and a giant adversary, Honor basically ambushes the person who got the jump on her. Romita Jr. takes great pleasure in the minutia of how she kills her opponent and it's just plain fun to watch someone knock a guy twice their size down with a few well-placed groin shots and a bullet to the head.
The dinner scene pushes more reliance on the script as Romita Jr's ability to sell a scene with facial expressions is somewhat lacking. The dialogue is thick with the usual innuendo and fleeting remarks of a conversation where not all parties understand the pretext, but Abnett and Romita build a tense scene regardless. When it finally breaks, there's another fantastic, bombastic action sequence to end things.
The Silencer
is the type of comic that should exist more: a fun play on the familiar with a lot of action. Too often comics shy away from their pop sensibilities, content to emulate cinematic overtures and Golden Age TV complexity when sometimes all you need is an assassin with a family and an artist with a sadistic streak. If the issue succeeds in anything, it is building on the underground world of the DC Universe, the places where the al Ghul's roam free and wild free from the capes. And while this entire thing could go off the rails at any point, it may be fun to watch the car crash. At least Romita Jr. will make it look fantastic.
tl
;dr review:
The Silencer
is a throwback to the ludicrous 90s, an action-packed play in familiar territory that still manages to feel new and fun.
Support this writer on Patreon
Last Updated: Jun 26, 2018 - 9:28