Review: Supergirl Season 2 Episode 1

By Andy Frisk
October 10, 2016 - 21:17
Supergirl (2015) was a bit of an uneven show over the course of its first season. It bounced back and forth between being a teen coming of age/romance drama, a la Gilmore Girls, and an action superhero show. It found a bit of balance as the season progressed, and it ended up being a thoroughly enjoyable show. The jump from CBS to The CW was the logical move, as the network is already home to a plethora of DC Comics' based superhero shows, and will probably keep the show alive. The first episode of season two kept the same aforementioned episodic formula as the first season's episodes, but managed to make the coming of age/romantic drama angle feel more like an organic part of the overall story rather than a shoe horned in appeal to non-superhero fans. More importantly though, it managed to introduce its viewers to a television version of Kara Zor-El's cousin that is better than the current silver screen one, even if he was just a guest star on his female cousin's show.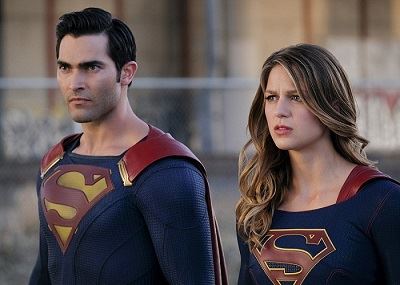 The introduction of Superman into
Supergirl
was not only a brilliant move as far as ratings were concerned, but it managed to turn the show's penchant for having a guest star of the week on its head. Like the uneven aspect of the storytelling and direction of the show early on, the introduction of a new, often extremely short lived, minor DC character was becoming almost trite.
Supergirl
was in danger of becoming a "monster (or token superhero) of the week" show. Introducing Superman, along with establishing him as already having a long term friendship with James Olsen (portrayed by Mehcad Brooks-a staple on the show), and a history of superheroing in his own city (not to mention the obvious connection to Kara-and the potential for her further character development) not only enhances the series' overall depth, it demonstrates that the show can guest star other superheroes (and villains) in a more meaningful way than for Supergirl to just pummel each week, or do some pummeling along side of.
While Tyler Hoechlin's Superman/Clark Kent doesn't exactly steal the show, so to speak, Tyler Hoechlin's Superman/Clark Kent is definitely the most interesting thing about the season two debut episode "The Adventures of Supergirl." This isn't because he takes up more screen time than Supergirl/Kara (Melissa Benoist), as he doesn't, but because recent portrayals of Superman have been controversial, even if well acted (by Henry Cavill). The controversy over the decision to portray Superman as capable of killing in
Man of Steel
(2013), and again as willing to kill Batman in
Batman vs. Superman: Dawn of Justice
(2016), has been a huge one in the world of not only Superman fandom, but superhero aesthetics alike. Here, Superman/Clark Kent is portrayed as closely as he ever has been to the character as he existed between 1986 and 2011, perhaps with the mild exception of the character's portrayal by Dean Cain on
Lois and Clark: The Adventures of Superman
. He was not the lovably bumbling dork of the Christopher Reeve films, but he definitely wasn't a brooding twentysomething who was more angsty than amicable, much like the now defunct New 52 version of the character was portrayed. Hoechlin's, and Supergirl series writers Greg Berlanti, Ali Adler, Andrew Kreisberg, and Jessica Queller's, portrayal of Superman/Clark Kent is not only amicable, it's mature, supportive, funny, cool, and inspiring all at once. Winking at a family he saves from a hail of gunfire, and stopping to chat and comment good naturedly at Supergirl's revelation to another group of fans that "I used to change his diapers" makes this Superman not only likable, but approachable. Just as the character should be. The introduction of a backstory between he and Henshaw/Martian Manhunter is a nice touch as well as it gives the characters some new depth. Physically Hoechlin looks the part, but more importantly, he portrays the character with an effortless balance between seriousness and sensibility, and a strength that is both physical and emotional.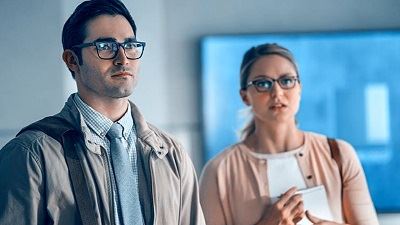 This is Supergirl's show though. Superman is definitely a guest star, and he is rightly handled as such. This is not to the detriment of the character, but to the benefit of him. It's a brand new way of portraying Superman. To the best of my knowledge he has never been a guest star before. In every TV show he was in, well at least every live action one, he has been the main character. In
Supergirl,
he's here to support and advance the characterization of the show's star, the fact that he is also developed and made more interesting as a character than he's been in years is simply a benefit to the show's writing and directing. Speaking of the writing and directing, again the episode manged to balance the romantic angles with the superhero action ones much better than they have in the past, as the handling of the budding romance between Kara and James Olsen was deftly, as well as realistically, developed. The show's most annoying part, Calista Flockhart's portrayal of Cat Grant, was made more bearable even. The tendency to use her as comic relief actually worked this time. This included her Gene Hackman like bellowing of "Miss Tessmacher!" (her new assistant's name), which was just one of the many subtle and smart nods to the original
Superman
(1978) film. Melissa Benoist's portrayal of Kara's challenging task of coming up with a job for herself in CatCo in 48 hours, under the order of Cat Grant, is also excellently portrayed. It has a realistically interesting and much needed grounding effect in a fantasy show such as this. Kara's choice is perfect, and will give the show the maturity, without abandoning the fun, that it desperately needed. More real world challenges like this, as long as they don't lead to brooding (brooding isn't as cool as it once was), and the show will continue to get better and better.
It's never too early for a super Superman fan like myself to start advocating for a new series starring Superman, but a
Supergirl
spin off starring Hoechlin in the title role would not only be great, but groundbreaking. Imagine it. A SuperMAN show that is a spin off of a SuperGIRL show. Until then though, and even after (if I'm lucky enough to get my wish) a
Superman
show becomes a reality,
Supergirl
will remain a show worth tuning into every week (or DVRing and binging) whether or not Superman continues to guest star.
Rating: 9 /10
Last Updated: January 24, 2022 - 11:00