Review: Rayman Legends
By Sean Booker
September 5, 2013 - 10:53
It should be noted that this review is for the Vita and WiiU versions of the game.

Rayman Legends is a tightly paced platformer that showcases a wonderful combination of great music and visuals. The game is similar in structure to the previous Rayman Origins installment but also mixes up some of the gameplay for some real fun and interesting uses. Legends introduces several co-op levels that are quite fun to play through but end up being beyond frustrating when working through with a computer player. But even those are easy to ignore with the dozens of levels, both new and old, and the great deal of bonus content to be enjoyed.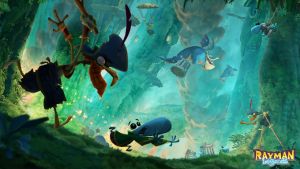 The story is largely irrelevant throughout the game and is actually not mentioned very much at all. You're told that the world is in danger and you hit the ground running, jumping and swinging your way through each stage. The lack of any real narrative isn't that important though considering the game is far more focused on the level design and the platforming you are to perform.
The gameplay is identical to what we saw in the previous
Rayman
game and that's totally fine because it worked. You'll run through a series of differently themed worlds as you collect "lums" and rescue your friends. Finding more and more of these hidden guys will unlock further stages down the road; which can be annoying if you're main focus has finishing each stage and not hunting throughout. One problem is the level design to some of the final stages. The game has a great difficulty throughout most of it but the timing required for a lot of the last world gets a little ridiculous. Considering how fast and perfect you need to be timing your actions, a lot of the ending levels almost come across as a blind quicktime event with absolutely no error allowed. It's the shame that the game ends in such a harsh way that it becomes more trial and error based as opposed to any actual platforming.
There will also be several levels in each world that are co-op based and completely new to anything we saw in Origins. These stages involve you taking control of Rayman's flying friend Murphy while another player controls a second character who runs through the level. Murphy's job is to move and manipulate obstacles in order for the second player to complete the stage. This can involve cutting ropes to drop walls or even tilting the WiiU gamepad or Vita itself to rotate the world. The downside to these though is that if you're playing the stage alone, the computer takes control of the traversing character and can often make some pretty bad mistakes. Along with this, there were a number of times that I found the Vita lost calibration while rotating and ended up causing me to fail. The co-op levels are designed nicely but really shouldn't be played alone.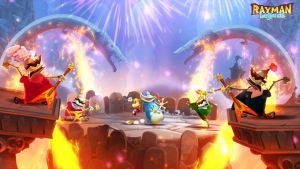 Each world will also bring with it a new mechanic that wasn't previously seen in Origins. These can range from sections you can tunnel through by touching the screen or stealth like areas that require you to stay hidden in the shadows. There's a good amount of content to each world and the variety of ways that each mechanic is implemented gets explored to a great degree. It should also be noted that the underwater world (a typically annoying theme found in many platformers) is actually totally playable and not as obnoxious to deal with as one might expect. These new areas are a great addition and fit in perfectly with the look and feel of the game.
Which brings up to the best part of Rayman Legends - it's presentation. The game looks fantastic and we see the Ubi Art being used once again. It's similar to what we saw in Origins but improved with more crisp and complex features. Along with this the music found throughout the game is once again really appreciated. There's a great deal of variety to the soundtrack and the characters will even dance to it quite often. Each world also has a level that is set up to time all your moves to the music beats of the song. This adds some good fun when you notice that jumping and beating up enemies is actually adding to the music. The visuals and audio in the game go hand and hand and work nicely with the light-hearted, fun nature of the game.
Rayman Legends is a great platformer with a lot to play through. The majority of the stages you'll encounter are very fun and the new additions found in this game are quite welcomed. It's a shame that some of the levels near the end fall short of the same level of enjoyment and a lot of the co-op stages are really depressing without a second human player. And all of that is wrapped up in a very pleasing and gorgeous art style. I only played the Vita and WiiU versions of the game but I can definitely say that if you like platformers then Rayman Legends is worth picking up.
Rating: 8 /10
Last Updated: December 31, 2019 - 20:28