Comics / Comic Reviews / More Comics
Review: Rachel Rising #42 FINAL ISSUE

By Andy Frisk
June 13, 2016 - 15:41
Terry Moore and his latest creation, Rachel Rising (from Abstract Studios), are two of the best talents and products working and published in comics today. Moore's tale of a murdered and resurrected young girl who discovers that her death, and previous lives, are linked to the founding myths of Occidental mythology and belief has been a joy to read, as well as one of the few comics that was worth the anticipation each month. With Rachel Rising #42 though, the series comes to a close...although Moore does leave the door open for more stories...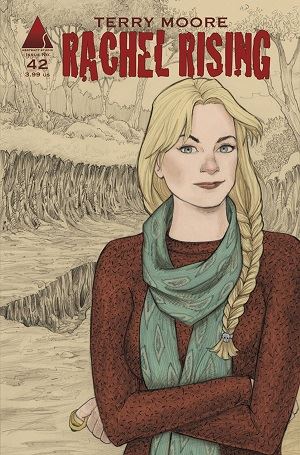 Terry Moore's Rachel Rising #42
What's Happening:
Rachel finally discovers who was responsible for her (latest) death and delivers the justice deserved. Several characters' story lines are tied up, albeit not as tidily as one would expect. Perhaps, this is because Moore leaves the door open for more stores of Rachel and her mythologically and spiritually challenged family.
The Writing:
Terry Moore
has the gift, and even more importantly, the patience, to craft a well developed and slowly unfolding murder mystery that uses the strength of its story and art to bring readers back each month. Moore's writing and plotting is reminiscent of the old Marvel Comics days when the stories were so well written and the art so luscious to the eye that the wait between months was almost unbearable. Moore engaged in no sensationalism, no overtly sexualized characters or episodes, no unnecessary blood or gore, and no hyped story line breaks. He simply told a great story, at a pace he felt was proper for his characters, one month at at time.
Rachel Rising
unfolded month to month like a delicately blooming Moonflower in the darkest of nights underneath a blackened sky.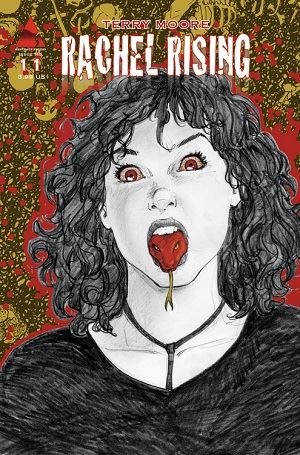 Terry Moore's sublime cover to issue #11 of Rachel Rising
The Artwork:
Moore's highly realistic yet almost supernaturally expressionistic and ethereal artwork is unlike anything else in comics currently. Moore finds more beauty, and by far creates the most beautiful, natural scenes such as woodlands, rainfall, and beautiful women. Moore's strengths as an artist perfectly matched his story subject. One would expect this since
Rachel Rising
is Moore's singularly unique creation, but his style brought a transcendence to the look and feel of the book that was at once sublime and viscerally physical at once.
The Verdict:
Terry Moore's
Rachel Rising
is going to be sorely missed. The only solace we admirers of the series and Terry Moore's work have is that we will hopefully see something new from him soon.
Rating: 10 /10
Last Updated: May 19, 2020 - 12:25