Comics / Comic Reviews / DC Comics
Review: New Super-Man #3

By Andy Frisk
September 18, 2016 - 23:38
I love meta-fiction, or at least intelligent superhero comic book stories that make sly use of meta-fiction. Gene Luen Yang and Viktor Bogdanovic's DC Rebirth title New Super-Man is loaded with it. "This team of children you've assembled is nothing but a cheap Chinese imitation of a flawed American concept." asserts August General in Iron (leader of the traditionally labeled Great Ten-China's first major DCU super team) to Dr. Omen (leader and creator of the new Justice League of China). While New Super-Man definitely isn't that, Yang's series is an obvious commentary on the growing US/Western influenced pop culture explosion going on in China currently. Bat-Man, The Chinese Wonder-Woman, and of course, the New Super-Man are imitations (in name at least) of the American Superman, Batman, and Wonder Woman, but their growing brashness and independence make them more inspired imitations than "flawed" ones. The leader of the Great Ten might feel more than annoyed by them, he might feel threatened...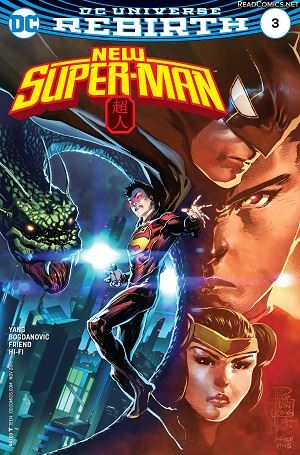 Super-Man and friends prepare for action.
The plot thickens quickly in
New Super-Man
#3 as the Justice League of China connect several data points that lead them to the home of the anticipated third victim in a string of murders connected to the airline for which Kong Kenan/New Super-Man's mother worked for. Going rogue, the team follows their hunch and end up battling a monstrous serpentine creature and running headfirst into The Freedom Fighters of China, a team of super powered individuals (which includes Blue Condor-someone Kong/Super-Man is quite
familiar with
) who are interested in recent developments themselves...and mirror their namesake US team's look.
Putting aside the smart dialogue and meta-fictional aspects of this brilliant series, Yang manages to make some much needed plot advances that deepen the mystery of Kenan's background and introduces new sinister motivations and potential dangers. He does all this while keeping the tone light with Kenan's humorous teenage perspective fueled narration as he navigates his hormones and heroic responsibilities at once. All of which makes sure that
New Super-Man
is fun and interesting, as well as smart.
Of course, Yang's great direction and vision for
New Super-Man
would be all for naught if not for Victor Bogdanovic and company's fantastic artwork. Bogdanovic's great strength is his characters' facial expressions. Sometimes a little cartoonish and almost manga-like, they really capture the youthful exuberance of the young heroes. He also managed to convey the monstrous as well as angry visages of the incarcerated (and mysterious) character who also wears a New Super-Man type of stylized "S" symbol on his chest as well as that of August General in Iron and Dr. Omen. When the action heats up later in the issue Bodganovic's artwork heats up as well as the battle between the multi-headed sea serpent creature and the heroes is pure classic superhero action.
With the addition of many new players on the scene, both the Great Ten and The Freedom Fighters of China, and all the allegorical goodness (as well as super powered super heroic action and adventure) that should follow, DC Comics' most interesting Rebirth title,
New Super-Man
, should stay a great and interesting reading.
Rating: 9 /10
Last Updated: July 2, 2020 - 16:53