Comics / Comic Reviews / More Comics
Review: Invisible Republic #15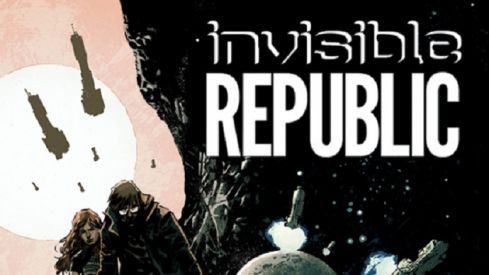 By Andy Frisk
Mar 21, 2017 - 22:46
Gabriel Hardman and Corinna Bechko have created a rare thing in the comic book publishing world: a long running political intrigue drama that reads as a non-political and historical narrative of events that will occur in a future time, but will parallel human socio-political behavior as it has seemingly always unfolded over the course of its history.


Very briefly, the plot revolves around the events on a moon named Avalon some 800 years into the future, which has just seen the end of its reigning political regime (called the Mallory Regime) with the demise of it's leader Arthur McBride. McBride's cousin, Maia Reveron, is revealed to be a player in the political struggle that ensues, and reporter Croger Babb falls in with her movement upon his chance discovery of her unpublished memoirs that sheds new, and sometimes negative, light on McBride and his rise to power.
The ever evolving cast of characters operate within a split narrative. One of the narrative's is the telling of Maia's story from the early days just before and during her cousin's rise to power, and the other takes place in contemporary times during the political and social chaos that is engulfing Avalon in the aftermath of McBride's demise. First and foremost the characters are what drives both narratives, not the political and revolutionary/militaristic intrigue. Many characters fail to meet the stereotypical assumptions that such characters would seemingly induce. For example, Babb is an investigative reporter, but is more of a coward who lucks into the story of the century rather than the crusading do-gooder who enlightens a populace to the shortcomings of its deposed leadership. Maia is a much stronger character than the forgotten female cousin of an authoritarian strongman might be though to be, and so on. Also, the story, set in the far future and on extraterrestrial worlds (although there are no humanoid alien characters-think
Battlestar Galactica
) has a heavy and dark sci-fi atmosphere (massive cargo ships, dreary massive scale industrialization, etc) that is beautifully realized and intricately detailed though Hardman's artwork and is almost a character in and of itself.
It's the old adage that "the more things change the more things stay the same" especially as regards human nature and how we continually fall into the same traps and tropes as we struggle to govern ourselves justly. The story could be set in modern times and instead of Sol Gov reigning as the dominating military industrial complex it could be the United States, and instead of Avalon being a breakaway province, it could be any one of the heavy industrialized states of the Balkans or South America struggling for independence, but falling under the oppression of a strongman who promises democracy, but doesn't ever quite deliver. It's storytelling brilliance that recalls the relevant self referencing that the aforementioned
Battlestar Galactica
reboot of about a decade and a half ago mastered.
Invisible Republic
isn't an action adventure book though. Yes, there is action and war violence, but it is not a front and center war or "star" wars book. This is to the book's benefit as it is the story and characters that drive this narrative, not the sci-fi action. Issue #15, which Bechko reveals to be the mid way point of the story, and marks a turning point in Maia's story and action, along with Babb's, is filled more with intrigue and near death experiences via bombing raids than shoot outs. It's a rewarding cap to the first year and a half of stories that promises to set the book off in newer and more decisive directions as far as Maia and Babb's actions are concerned publicly and militaristically in the post Mallory Regime world of Avalon.
Invisible Republic
is a book that warrants multiple readings, as well as anticipated release. It's that rare type of smart and engrossing work that Image Comics has become renown for these days. It should be on the top of your reading pile monthly.
Rating: 10 /10
Last Updated: Jun 26, 2018 - 9:28