Review: Game of Thrones: The Sword in the Darkness

By Sean Booker
April 8, 2015 - 13:44
Game of Throne's third episode: The Sword in the Darkness is solid and engaging the whole way through. The story weaves its way back into continuity with the show/book's events which will excite fans of the various media. There is a level of stress that comes forth repeatedly and pushes the player more and more against making dire decisions. This is a good continuation that will hold your interest the entire time.
Despite featuring characters not related to the show, episode three jumps back towards plot threads that fans of this cross-media story will appreciate. New creatures featured elsewhere are mentioned and shown for the first time in this game to great effect. Major plot points are also referenced as you control characters off in the periphery. These cameo-like instances are nice treats since it continues to show that this game's characters are just as important and meaningful as the main events elsewhere.
Most exciting are the difficult situations you find yourself in for the duration of the episode. Characters are stuck between a rock and a hard place more so here than ever before in this Telltale series. What works so well is that the game constantly pokes at you while leaving you in this stressful situation. You want to react but doing so will lead to far worse consequences. The Sword in the Darkness knows this and plays with just how long you will take this berating. It is stressful and interesting as it works so well to engage the player on an emotional level.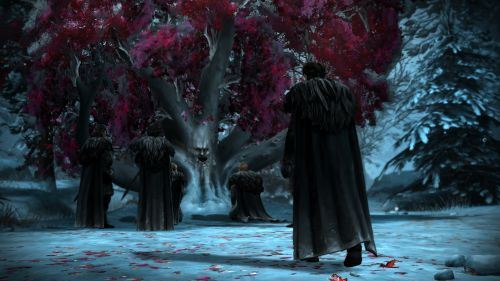 The only real downside was a lack of real tough binary decisions. There's a good moment during an early battle where you can choose who to assist in the fight but the outcome is anticlimactic. A lack of consequence really drains a major choice of any weight. It was depressing to see that even though there were not many hard decisions to make, the ones in there are not even that ideally executed. Luckily the difficult situations mentioned before end up spinning a positive note on this episode.
The Sword in the Darkness is an engaging and enjoyable episode to play through. Despite a lackluster amount and use of the usual Telltale Game's binary choices, the game still does a good job of taxing you. Your characters are pinned down and the episode's use of torment is fun to work through. Seeing how long you can hold out really engages the player emotionally. This was a good continuation of the Game of Thrones season.
Rating: 8 /10
Last Updated: September 6, 2021 - 08:15