Review: Disney Pixar Brave (The Game)
By Sean Booker
June 26, 2012 - 16:50
This is a review for the Xbox 360 version of Disney Pixar Brave.

Disney Pixar Brave, based on the major motion picture of the same name, tries to implement some interesting gameplay mechanics but ends up, as the way most movie tie-in games do, being a lackluster and shallow experience. And though it would be unfair to compare this game to the quality of the film it draws its property from, the game doesn't manage to create any sort of unique or additional experience on its own. The combat is where the game's most interesting aspect is but the world and environments you'll find yourself in will drain you of any real desire to continue. With a lack of compelling story, playing through the majority of Brave becomes a boring pastime.

It should be noted that the difficulty of this game is quite low as the target audience is primarily younger kids, a feature quite disappointing since one of the charms of most Pixar movies is their acceptance from any age group.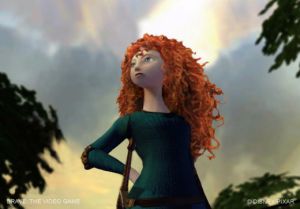 The majority of your time with Brave will be controlling your female protagonist Merida as you run through incredibly linear dungeons and attack nameless enemies. Your mission can basically be broken down to 'evil is bad and I should do something about' and it is quickly evident that "doing something about it" means moving through dull and repetitive environments. The dungeons will change in aesthetic based on the stage; this can range from castles, forests, frozen rivers and cliff edges. For the most part you will be going in only one direction as the game it littered with invisible walls preventing you from any real diverging paths. However, the road will open up slightly as there are collectables throughout the game that will only be accessed by finding not-so-well hidden passages. The enemies are also quite boring and random from wolves and skeletons, to fire or ice wolves and skeletons. The game will even put a marker above each enemy to warn you what they are weak against, further adding to the minor difficulty.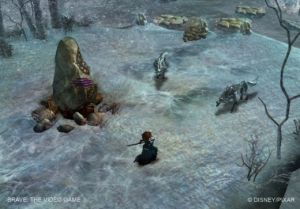 The dungeons are broken up about once a level by the addition of mini puzzles that need to completed in order for Merida to continue. During these puzzles you will control three baby bears as you individually control each in order to make your way to a final switch. These puzzles range in design quite a bit. For example, one will have you moving one bear along a bridge while the other two rotate sections of the walkway while another will have you shooting a crossbow with on bear, moving the bow with another, and jumping along the arrows with the third. In a game where were monotony can be found around every corner, these moments were a nice breath of fresh air.
The majority of the time you will notice that most of the game's textures and models are extremely basic, repetitive and ugly. In fact, many of the cutscenes and character animations repeat over and over throughout the story. There is a specific cliff-face level in the latter portion of the game that repeats the same jutting platform model dozens of times to the point that it almost appears to be the only model they made. One thing I did quite like was all the motion comic-like cutscenes the game has. These were designed to look like hand painted concept art which is quite a contrast to the overall look of the main game. It's too bad the core component doesn't look anywhere near as nice.
The combat is probably the most interesting part of Brave and what you'll be spending a good deal of time on. You are equipped with a sword (for melee attacks) and a bow and arrow (for ranged). Early on you will find that the sword is mostly useless since the bow is just as powerful, just as fast, and can be shot from a safe distance away from any enemy. The bow is controlled by auto firing rapidly when moving the right analog stick in the direction you want to shoot. I primarily used the bow and this turned all of my fights into a dual joystick game similar to Geometry Wars and I quite enjoyed that. Defeating enemies grants you gold coins that you can use to upgrade your attacks and other combat abilities for Merida.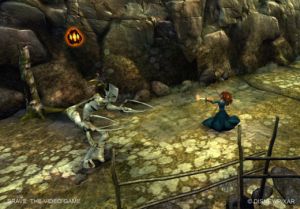 You will also have a couple moments in the game where you'll control a bear and fight off a high amount of enemies at one time. These sections are incredibly easy due to the bear's strength and high defence, and the incredibly short length of these moments make them pretty forgettable.
The game also advertises that it is "Better with Kinect" on the Xbox 360 if the player has the Kinect peripheral plugged in. Doing so gives you access to three minigames where you must act out shooting a bow and arrow. The games primarily test how fast and accurate you can perform the arm actions. This mode is separate from the core game but any currency scored can be used for upgrading your characters in the main campaign.
For the most part Brave is a boring and monotonous experience. The level design is dull and extremely uninteresting but the short puzzles do help out in maintaining your attention. The Kinect games come across as pretty irrelevant but allowing your winnings to move over to the campaign mode is a welcomed feature. Apart from the fun double analog stick style of combat, Disney Pixar Brave is an underwhelming experience that, if you are looking for something to expand on the film's universe, will not be found here.
Overall: 2/5
Rating: 4 /10
Last Updated: May 19, 2020 - 12:25