Comics / Spotlight / Progressive Panels
Raiders of The Lost Ark: 30 Years Later
By Andy Frisk
September 21, 2012 - 18:04
Recently re-released in movie theatres across America in celebration of its release on Blue Ray video disc,
Raiders of The Lost Ark
(1981), or
Indiana Jones and The Raiders of The Lost Ark
as it is now oft referred to, is not only one of the most influential films of all time, it is the film that stirs the deepest feelings of nostalgia in Gen X'ers, next to the original
Star Wars
trilogy of films. I first saw
Raiders
when I was about 8 years old. It left a lifelong impression on me which in part inspired my love of history, Egyptology, action and adventure, literature, books, and in part comic books as well. (There was a pretty decently written and drawn
Further Adventures of Indiana Jones
from Marvel Comics in the early 1980s that I devoured pretty relentlessly each month.) It's easy to look at the film, after several years of university education and adult experience, and readily point out its major (and in some cases culturally dangerous) flaws. At its heart though,
Raiders
is a film of unparalleled thoughtfulness and heart, for an action adventure film, and its deep seated themes of good vs. evil, its complete disgust for said evil, and its unique characters way outweigh its flaws.
Raiders of The Lost Ark
(as I'll always refer to it) is the type of film that, even thirty years on, is still a near peerless action/adventure film. The only film that possibly approaches
Raiders
' level of greatness is
Marvel's The Avengers
…but that film still doesn't quite measure upt to the historical and emotional import that
Raiders
has. It is a unique and powerful film that will undoubtedly stand the harsh test of time as a testament to great 20th Century film making.
Raiders
was one of the first grown-up movies that I remember being allowed to watch and, even more importantly, be allowed to go to the drive-in with my parents to see. Harrison Ford had cleared the hurdle as being okay for me to watch in another film rated PG since he played so good and positive a character in the recent
Star Wars
film. Already a budding history buff, a movie where an archeologist traveled the globe searching after antiquities was something that I was really, really excited to see. I had read up on everything that I could comprehend at the time about what the Ark of the Covenant was, so I was fully prepared to (hopefully) understand what was going to be going on in the movie. When the movie started and Ford, as Indiana Jones, raided the Native South American temple for the golden idol and barely outran the tumbling boulder that threatened to seal him in the temple forever, I was immediately convinced that Indiana Jones was the most awesome character I'd ever seen in a movie. His cool attitude and seesawing emotions that went from being completely careful one minute to completely impulsive the next defined forever more what a great action hero should be in my mind. When Marion Ravenwood (Karen Allen) showed up, she immediately became the most beautiful and desirable female I had ever seen. She was particularly interesting because she was a foul mouthed, loud, aggressive, smart ,and independent woman who could have been every bit as independent and strong as Indy was if she wasn't held back by several out of her control circumstances. One of which was Indy's breaking her heart and leaving her at a young age in Nepal with her father, who subsequently passed away leaving her to fend for herself in the harsh and foreign environment. Marion would inspire in me, and I'm sure many other young boys, an admiration for strong women that would variably carry over into our adult relationships.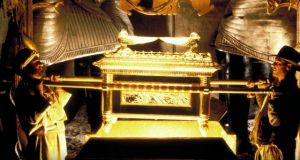 Sallah, Indy's trusted Egyptian archeological digger friend was the perfect sidekick to the globetrotting hero. He was more than just comic relief. He was a genuinely jolly and funny fellow. Looking back now though, and here is where the university education comes into play, Sallah was a pretty poorly portrayed character stereotypically. He is sort of an embodiment of the typical "happiness in slavery" cliché. Although he technically isn't a slave by any means, and is a highly intelligent and motivated character in his own right, he is a willing subservient friend who doesn't really resist the First World incursion into and exploitation of his Third World country. In fact he is even hired by the Nazis. He states that his hiring is inconsequential since they really don't make use of his talents. It can be said that he's getting the better of his First World masters though by getting paid for a job that he really isn't putting much effort into completing, and he does help Indy (the obvious First World good guy) out tremendously. He's still just the jolly and happy go lucky local contact who, for all we know, is paid for his services to Indy with a kiss from Marion, the epitome of liberated First World femininity. His reward for helping Indy and Marion is a little taste of liberated (not to mention young) First World female sensuality.
In fact, the entire treatment of the Third World in
Raiders
is pretty deplorable and stereotypical. Marion's Nepalese customers amuse themselves by betting on drinking games in her bar. Cairo's population consists of (aside from Sallah), street vendors, vegetable peddlers, and pet monkey owning Nazi stooges. Perhaps I'm being a little too harsh and employing my "liberal" arts education's criticism skills a little too stringently here, but these observations are not without merit and are worthy of further exploration, so much so that Spielberg and Lucas would feel the need to self-correct (somewhat) their colonialist outlook on Third World nations, and stereotypes of their natives, in I
ndiana Jones and The Temple of Doom
, the second installment of the
Indiana Jones
collection of films.
Putting aside the issues with its treatment of the Third World,
Raiders
, as a film, does weave a tale of brilliant divine justice and enlightenment that moves beyond its obvious nods to the validity of Judaism. The Ark of the Covenant handily destroys the evil Nazis at the end, and Indy learns to respect the "superstitious hocus pocus" that he derisively dismisses at the beginning of the film, which is a pretty poor attitude for an archeologist and historian to have. Indy doesn't become a God fearing Jew, puritanical Christian, or left wing champion of the aforementioned Third World subjects at the end of the film, but he does have a better understanding of the spiritual value of the antiquities that he so callously tosses around, and raids sacred temples for.
The Ark's power isn't just its fictionally portrayed

supernatural

ones. It is the metaphorical power that this supernatural power stands for in

Raiders

that is the point.
Indy (and therefore the audience) gets this point, and Spielberg and Lucas make this point quite effectively and intelligently.
While many of the above arguments for the characters and against the colonialist aspects of the plot have rummaged around in my head over the years and have at times interfered with my pure enjoyment of this dazzling and highly entertaining film, while watching it on the big screen again for only the second time in my life, not once did I think of one of them. It was almost as if I was watching the film again for the first time. I was once again amazed at Indy's cool (yet off the cuff existentially) attitude; Karen Allen's groundbreaking portrayal of the traits that a generation of young men would end up considering hot in their female companions: namely her tender aggressiveness, her independence, and her wiles; Sallah's joyous love of life and its adventure; and finally, the dangers that those who operate from a position of haughty authority and racism pose to the world. In short, seeing
Raiders of the Lost Ark
again on the big screen, for only the second time in my life since I was 8 years old, magically reawakened all the joy and wonder that I felt as that 8 year old child watching it for the first time. It was almost as if I
was
8 years old again. That is powerful film making.
Like music? So does Andy. Read his thoughts on it here.

Last Updated: January 24, 2022 - 11:00