Comics / Spotlight / Queer Comics
Queer Theory and Alternative Comics
By Hervé St-Louis
January 14, 2013 - 12:18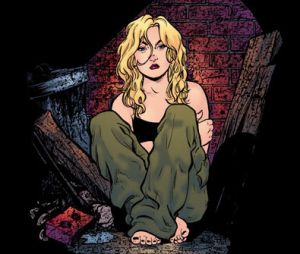 Katchoo, a queer character from alternative comic book series Strangers in Paradise
I'm doing a directed reading course in philosophy of information as part f my PhD studies. The professor working with me happens to be a queer theorist. We exchanged a few comments about the theories of classification through a queer theory lenses which totally surprised me. Queer theory, from my crude understanding is similar to feminist studies. It's a critical perspective through which the world is evaluated critically, in opposition to dominant theoretical frameworks. The core of queer theory is the concept of alterity which means otherness. Queers, otherwise known as homosexuals, lesbians, bisexuals, and transgendered define themselves in queer theory as the other outside of the mainstream branch way people are classified.
Queer theory would usually be used to study something like the
X-Men
and the mutant factor, whether the mutants are gay or not. The mutants are the other. As defined, I quickly saw a parallel with the whole independent and alternative comic book movement that started in the 1970s in North America. Alternative comics define themselves as not mainstream comic books. They are the other in comics. They define themselves in opposition to DC and Marvel Comics. Comics by creators such as
Robert Crumb
, Joe Sacco,
Peter Bagge
, Christine Doucet are all your typical alternative comics.
Perhaps independent comics, at this point should be defined as something beyond alternative comics. Independent comics, the more I think about it, are from publishers that are not as established as Marvel or DC Comics, but may very well promote the same kind of contents. For example, something like Viper Comics'
Dead@17
could be seen as an independent comics as it's about a popular theme – zombies; but published by a much smaller comics publisher. Whereas the work of Joe Sacco, such as
Palestine
, tells the kind of stories that a publisher like Viper Comics would never touch. Palestine is a historical fiction about Palestine by a cartoonist using the documentary approach.
The professor agreed with me that alterity could be used to understand and define alternative comics. Which prompted me to let him know that I always opposed terms such as independent or alternative comics when I founded
ComicBookBin
a decade ago, preferring to refer to non Marvel and DC Comics as just comics. For me, defining comics as opposing something else, means invariably that that other thing which one opposes, defines oneself. I prefer identities that are self-built and autonomous. I was proud of the fact that at ComicBookBin, our section about non Marvel and DC Comics is called "More Comics." The professor argued that more meant extra, thus an addition and that additions are also considered alterity. It seems that I could not escape the trap of defining so-called non mainstream comics through a queer theory!
What was interesting was that how comics were defined as More Comics, reminded me that ComicBookBin had two autonomous kind of comics which we cover and that are not defined by their otherness versus Superman and Spider-man. ComicBookBin's
European
and
Manga
sections exist as autonomous categories without being consumed by a relation of opposition to DC and Marvel Comics. They just are.
Astérix
,
Tintin
,
Dragon Ball
and
Sailor Moon
just are. There was a time where they indeed could be considered the other, but in their place of origins, Asian and Europe, they are the dominant forms of comics. The existence of Tintin and Sailor Moon is not defined as not being Spider-man or Superman. Where Sacco's Palestine and Julie Doucet's
Dirty Plotte
come from they are published in defiance of
Superman
and
Spider-man
.
To escape the premise of queerness and alternative comics, I suggested that perhaps I should brand the More Comics section of ComicBookBin – American Comics and therefore claim the entire domain and instead transform DC and Marvel Comics into defectors. But the thing is More Comics is more than alternative comics at ComicBookBin. It's where we put any comic book from any publisher that is neither European, Manga or from DC and Marvel Comics. That means that Dark Horse Comics'
Ghost
which is set on premises similar to those found in many DC or Marvel Comics becomes an American comic whether it was intended or not. That may not be a problem but what about Todd MacFarlane's
Spawn
. MacFarlane is Canadian. Many comic book professionals working in the so-called "American comic book industry hail from Canada, the Philippines, Brazil, Argentina, or Mexico.
Unless I rename the section World Comics, then I will not capture the infusion of talent from the world over. This is a lot of twisting and stretching to avoid defining non DC and Marvel Comics through a queer perspective! I don't like the idea that those comics should be defined against something else instead of their very own intrinsic values and merit. I don't have a solution. If you do, please share one with me but perhaps I should just leave things as is.
Last Updated: August 31, 2023 - 08:12