Push and Pull Promotion for Web Comics
By Hervé St-Louis
June 26, 2008 - 00:00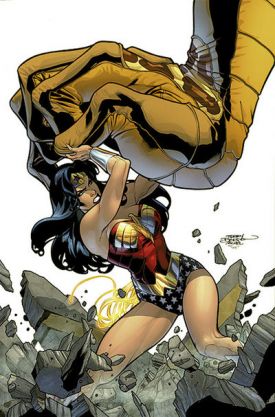 pushing and pulling
One aspect of comic book publishing that publishers need to understand is how to attract new readers. Traditionally, vendors have relied on the direct market to promote and distribute their product to comic book readers. Through the Internet, the sale and marketing of comic books has taken a digital shift allowing vendors to
inform their clients
through new media sources like The Comic Book Bin and to multiply
information about local
and distance retailers involved in the direct distribution market used In North America.
Many
pundits criticize this direct market
where all products are distributed through Diamond Comics, the owner of the network. However, an alternative network has been shown to be as viable and effective means of distribution as the direct market where books are sent from the printing facilities or the publishers to Diamond Comics and then shipped to comic book stores and specialty hobby stores throughout North America and the world.
Through the Internet, comic book vendors can
sell and distribute their products
directly to readers and gain more traction and interest, provided they understand the difference between push and pull marketing.
In push marketing, vendors create a product; promote it, hoping to convince consumers to purchase their wares. Demand is created by the vendor. In pull marketing vendors create a product, but allow consumers to be involved in the discovery and distribution of the product. Demand is created by the consumer.
Instead of shipping a comic book to a store, announce its arrival and try to convince as many readers as possible to purchase a copy, pull marketing encourages consumers to be more interactive in the process of obtaining their comic books.
There is an element of viral distribution when consumers serve as a vendor's evangelist and actively monitor new releases in order to consume their comic book reading material online. For example, a Web comic strip published three times per week, like
Penny Arcade
encourages its readers to come visit its Web site and download the latest episodes regularly. Even when the reader skips a day, it is easy for that reader to find missing instalments of a story and catch up to the current storyline.
Pull marketing makes best use of the natural Web surfing habits of Web users. But pull marketing can also be combined in online promotions with push marketing. For example, a newsletter or a RSS feed which are sent directly to a user's account or email account are more akin to push marketing. It is the vendor which sparks interest in his wares, once the user has committed the initial pull demand action.
Comic book publishers considering spin offs on the Internet should understand the dynamics of push and pull promotion strategies with their audiences. As in brick and mortar businesses, good old business theories and practices work on the Internet. Successful vendors are those who know when to apply them.
Last Updated: August 31, 2023 - 08:12