On Archer and Boredom

By Zak Edwards
May 17, 2018 - 10:31
I'm bored of Archer. Almost as much as Archer itself.

That's not to say that the show wasn't exciting, that it didn't develop into something truly wonderful. Quite the opposite. What started as a spy parody, initially met with some well-deserved side-eye, grew into a quippy masterclass on recurring jokes and unconventional punchlines. Its writing was surgical, its cast incredible and, while the latter remains, Archer is obviously bored. The boredom started with its premise but has now consumed its last remaining strength, its characters. I'm saying goodbye.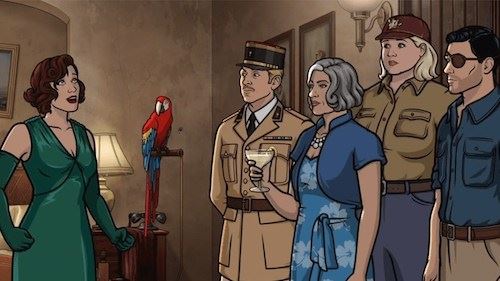 I identify with Mallory the most: get me a drink, I can't handle this.
Archer
's tenuous relationship with its original premise started after four seasons of spy parody, although you can see its unrest earlier. In those early days, it built a world on that genre's rich history and populated it with terrible people that were nothing but joyous to watch. For four seasons, that more or less worked.
Then,
Archer Vice
. The first season where
Archer
declared itself bored. It was season 5, one later than when high school dramas head to college to die, and I loved it. It was a shake-up for a show that had exhausted its original premise, so they moved some pieces around, kept the great characters and rolled the dice. It felt like a natural progression, one that took into account the show's ridiculousness and made consequences. If anything, the following season's attempt to return to normal felt more like a betrayal, even if it did give us the brilliance of the elevator bottle episode "Vision Quest."
It was also in season 6 where Archer started asking if everyone had abandoned "phrasing." A signal that things were stale and the show was looking beyond instead of elsewhere.
Archer
repiloted again in season 7, moving the crew from New York to LA. to become a private eye show. They shook up the power dynamics a little and rolled the dice again. The result: another success based mostly on the characters. I barely remember what happened in that Hollywood season because, honestly, it doesn't matter. Put Cheryl/Carol, Ray, Lana, Archer, Malory, Cyril, Pam and Krieger in a room together, things will be funny. It's what all great comedies eventually have: characters so well-defined and crackling with such chemistry that they work in almost any situation.
Last season,
Archer
pushed that theory to its limit and ended up making the most overt declaration of boredom I've ever seen (
Danger Island
notwithstanding). It turns out bookending season 7 with Archer in a coma wasn't so much a narrative device as a telegraph to creative limits. It wasn't "Oh my gods, Archer's maybe dead!" It was "
Archer
is dying and f*cked if we know."
Despite this,
Dreamland
was largely a fun exercise because it let the show move the pieces around without having to make up reasons for doing so, possibly borne from the frustrations of season 6 (post-
Vice
). A
Dreamland
character could carry their essence and start fresh with the core concepts and dynamics in off-kilter ways. Most characters had never met before, some had connections previously not possible, and fewer characters overall had had sex with Pam. It kind of worked but was unusually rote, delivering its punchlines with the accuracy of someone who's made that same joke hundreds of times before. Because they had.
And now,
Danger Island
, because "Archer Death Throes" is too on-the-nose for a show being so random, sudden and violent. Krieger is no longer the mad scientist, he's a squawking bird that does little more than soak up abuse and squelch out dad jokes. His trademark disturbing humour replaced with comments about his lice and dead punchlines told too earnestly. Cheryl/Carol is no longer the unstable, commanding heiress. She's victim to
a changing
circumstances that have left her unrecognizable. What was once the show's trickster is now the patsy. No longer a wrench, now simply a coerced cog.
And then there's Cyril. Pudgy, piddly Cyril. The sex addict who managed to get the girl, lose her and fail upwards to new comedic heights. Now, a Nazi who tries to rape Cheryl. Sure,
Archer
has revelled in its characters despicable depravity. But this? This is new.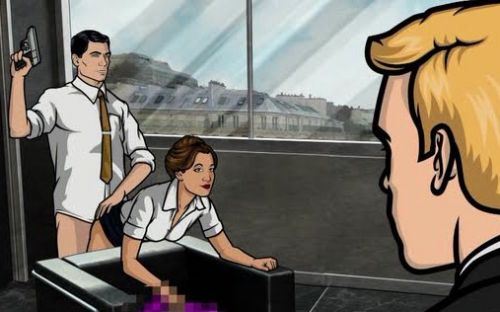 Ahh, simpler times.
And herein lies the problem with
Danger Island
: the show was bored of its premise and now it's bored of its characters. It's roleplay as suggested by your therapist. Wear a mask, play a part, hope that helps. It's not
comedy
. It's psychological horror. Worse, it's boring.
Archer
at its peak was a steady stream of callback jokes, horrendous characters being ridiculous, and a seething cynicism that was completely endearing. It had no compassion, found humour in the weird, and let its characters be flawed and watchable. It wasn't a hangout comedy but it twisted some of those elements, like the later seasons of
The Office
.
Archer
found its limit years ago and, after some experimentation, it didn't know what to do. That culminated last week in an episode where the characters are unrecognizable, like melted wax figurines of their former selves.
This is not a call for the glory days of a show. This is a call for networks to know when to let something die with dignity. Even something as undignified as
Archer
.
Last Updated: February 5, 2023 - 09:06