Nocturnal Conspiracies
By Andy Frisk
Jun 10, 2010 - 22:12
French Gestapo agents, female cultists in hieratic poses, "Hieronymus Bosh-like monsters," Roman Legionaries, bums, Chinese soldiers, one eyed reporters, Khmer Rouge soldiers, old Trotskyists, terrorists, killers, an Arabian prince, militia men, tiger tanks, a whore of "my liking," a fat police commissioner, a beautiful woman named Caroline, a wall of murdered children, and a persistent cowboy are just some of the fascinating, frightening, ugly, and beautiful denizens of acclaimed graphic novelist David B's dreams. These fantastic characters make their way through David B's unconsciousness and play out their roles through often disjointed, but more often interesting commentary filled, narratives gleaned from David B's nightly excursions to the land of dreams over the period from December of 1979 to September of 1994.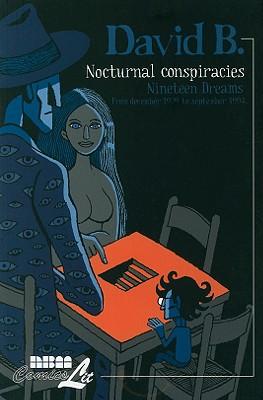 Nocturnal Conspiracies is a dream narrative or memoir compiled by the talented graphic novelist who created the noted Epileptic. With Nocturnal Conspiracies, David B continues to blend the real with the fantastic. He explores a fantasy world this time that is a product of an unconscious mind in contrast to Epileptic's consciously created fantasy world. While Nocturnal Conspiracies doesn't carry the same amount of profundity or pathos that Epileptic does, it nevertheless is a powerful reflection of an unconscious mind's musings, beliefs, fears, and desires as filtered through real world-like events (World War II battles and terrorist attacks) and people (Khmer Rouge soldiers and Trotskyists). These characters and events help to craft meaning in the narratives.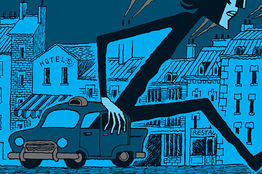 Meaning is a difficult destination to arrive at with any certainty though in Nocturnal Conspiracies. The dreams as chronicled often have little or no resolution and not much by the way of insightful or autobiographical conclusion can be drawn from the dreams. Instead of being frustrating this is actually refreshing. No deeply Freudian (thank God) or Jungian analysis or commentary appears present (although one can find—or force—Freud on anything). In reality, the dream narratives seem to be more embodied of political and satirical commentary. How much of this is a legitimate product of David B's unconscious mind or conscious transcribing mind is unknown and unknowable. It really doesn't matter though as the effect is still the same.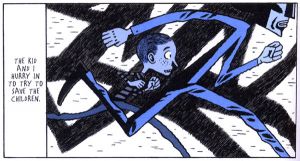 David B's artistic style is what really makes Nocturnal Conspiracies a treat to behold. He employs both sharp angularity and curved edges to almost create a palpable tension between the desires of the dreamer and slow slippage of nearly all consistent meaning. His use of a blue, black, and white color scheme artistically cements the vision of the art. It is a landscape draped in the midnight blue of a dimly lit starry night. What better colors are there for the province of night's world, the land of dreams?
David B's Nocturnal Conspiracies is an interesting look into the dreams of an artist. It's full of interesting events and characters. It is also a unique look into one man's dreams that reveals that although the characters and content may vary, we all take strange trips every night, some of which are worthy of writing down and bringing to life as only a work of sequential art can.
(suggested for mature readers only)

Rating: 7.5 /10
Last Updated: Jun 26, 2018 - 9:28