Comics / Comic Reviews / DC Comics
New Super-Man and the Justice League of China #22
By Judah Churchill
April 25, 2018 - 06:31
Gene Yang is already a cartooning legend whose career has been fascinating to follow. Having been awarded the MacArthur Fellowship-a genius grant, there is some pressure on him different than other artists to deliver an amazing comic.
"I feel the tension, as a longtime comic book fan. A huge draw of superhero comics is nostalgia. We want to read about the characters we grew up with, and it just happens that most of the characters we grew up with are white."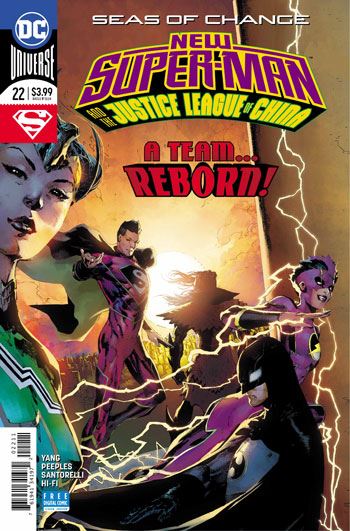 This was my first exposure to the Justice League of China and as I read I found myself constantly surprised by some of the decisions Yang has made. A boring Wonder Woman character running around after her love interest, a chubby Batman, Superman turns all white when he's displaying an exorbitant amount of power, Aquaman speaks to a powerful god in his head, but most confusing is using the yin/yang symbol for the chest shield on Superman but not making the two sides equal. I like how these choices are making me aware of race, culture, myth, and who gets to represent whom. One awesome detail is that Superman flies through the air standing up. We desire to fly like birds but the human body makes it impossible to do so, but not only is it physically accurate but the symbolic image of Superman crossing his arms with a smirk on his face makes for some great cartooning.
I'm excited that Yang is being allowed the time to fully explore Asian American imagery and how that pertains to superheroes. It's great that this is the 22nd issue. I hope this gets up to 200 issues the more time Yang gets to meld all these concepts together the richer this title will be. There is a lot of pressure on him to deliver a heroic representation and I'm excited that he is not wilting under the spotlight.
Rating: 8 /10
Last Updated: September 6, 2021 - 08:15