Mushishi Volume One
By Julie Gray
Apr 26, 2007 - 19:00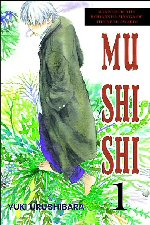 Mushishi Volume One Cover Art
"They have existed since the dawn of time"…
Mushishi: Volume One
is a manga about very strange things that happen in the world that cannot be explained. If you like tales about the supernatural, you'll enjoy
Mushishi.
Mushishi
is beautifully written and extremely melancholy in tone. The manga is separated into different stories that all take on a life of their own with one central character tying them together. The character of Ginko-san acts as the 'glue' that brings all of the different 'stories' of the Mushi together. Whilst this may sound a little strange, as far as the manga goes, it's a wonderful way to get a story across.
The beginning of the manga briefly explains to the readers what a 'Mushishi' is. It's important to know this before reading the manga because it will then help to make sense of what is going on. Once you understand the basics behind what a Mushishi represents, everything is a lot easier to understand.
Acting as the middle ground between humans and the spirit world (in particular, spirits of nature), Ginko-san wanders from place to place and situation to situation in the hope of reuniting people with lost souls or to somehow put the balance back into the lives of people who need his help. This explains his existence and reason for being but I get the feeling that there may be something hidden behind Ginko-san's sardonic smile.
Each story seems like a 'snapshot' of Ginko-san's life following his journey in and out of each experience. The author's use of tone in this manga is expertly applied. The first story for instance, really grabs at those heart strings and takes you away to a place of melancholy and loss (even though it's partially a story about reconciliation). There are many ways to explain the unexplainable in life. People often make up stories and tales about things to better cope with the reality. Mushishi deals with this very thing and Ginko seems to be a catalyst in the various stories – even though he's not necessarily the cause of the problem which I found interesting.
In essence, this is what makes
Mushishi
so enjoyable - a manga that is written with feeling and substance. It's very obvious to see why this manga was voted
'Kodansha Manga of the Year'
.
The artwork in this manga is lovely but isn't overly detailed leaving a perfect balance between the words and the pictures. It's impossible to look past the depth and substance of this manga.
Mushishi
is certainly one of those rare manga moments of complete fulfilment. I still can't decide which story is the best so far but 'The Pillow Path' and 'The Green Gathering' are certainly two of my favourites.
Mushishi: Volume One
features translation notes, an afterword and a sneak peek at the next volume in the series in original Japanese. Details of this excellent Del Rey manga can be found
here.
Art Work:
7/10
Story:
8/10
Overall Rating:
8/10
Contact the author of this review:
Julie@thecomicbookbin.com
Last Updated: Jun 26, 2018 - 9:28