Comics / Comic Reviews / More Comics
Mercy Sparx #3 (of 4)
By Andy Frisk
March 25, 2009 - 18:56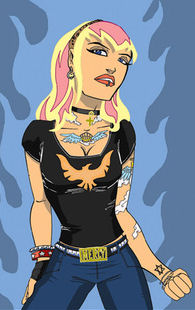 Mercy in disguise.

Josh Blaylock's mini-series MERCY SPARX is simple escapism with a bit of storytelling depth mixed in. Its title character, Mercy Sparx is a female demon born in the Land of Sheol, described as, "a strange place between heaven, hell and purgatory." Mercy is sent "against her will" to "our world" with a mission from God to "hunt rouge angels hiding on Earth." It's a simple premise and honestly, a pretty simple work, but a totally fun one. Most of the action in the first three issues is comprised of Mercy beating up on other female angels, all of which are beautiful and drawn in a classic pin-up/tattoo style, while bemoaning being on Earth by espousing sarcastic and quite humorous one liners and commentary. I doesn't hurt that she looks totally hot while doing so as well. It would be easy to write this title off as throwaway trash which sells because of its well endowed and alt-rock, rave and/or metal-fetish looking female leads, and it really is in a host of ways (no pun intended on heavenly "hosts" or anything-if you even got that) but its just such a fun read.

You just can't beat a lead character who's a demon and whose tattoos are the reverse of the typical "bad girl" tattoos. Mercy is covered in angel wings and halos, technically considered "bad girl" tattoos considering where she's from and who she is. You also can't beat a lead character who, when referring to recharging after a battle with and angel, states that it "…involves two shots of Jame-O and a Tequila chaser."

Oh yeah, there was mention of a bit of story depth. Aside from Merhoff's art, which catches the cartoonish-like retro style necessary for a tongue and check comic book dealing with hottie angels and demons using each other for punching bags, in issue # 3 we discover that Mercy was duped, to use her own word, into taking on the mission she's been engaged in, and probably enjoying more than she lets on, and now has to deal with the machinations of powers that just might be beyond her ability to deal with solo. It all involves a snake oil salesman-like preacher, who she happens to be reporting to as a boss on Earth, and his desire to baptize Mercy, thus completing her mission and making her "free to go," a powerful "upper class" (read high ranking) angel and the mysterious male angel working with the preacher (who obviously is up to no good in a morally ambiguous way…).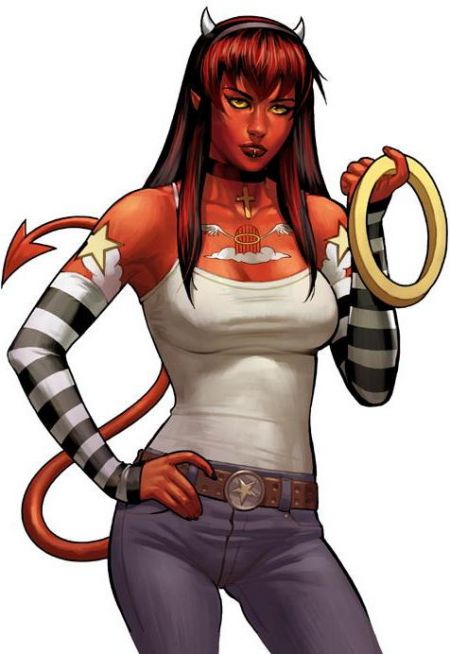 Mercy's true form.
Whatever…between Mercy, her sarcasm, tattoos, and two fisted approach, I'm hooked and when her new ongoing series MERCY SPARX: UNDER NEW MANAGEMENT kicks off on May 2nd, Free Comic Book Day, I'm there. Oh, and I'll be checking out issue # 4 of this series as well.
Rating: 8 /10
Last Updated: January 24, 2022 - 11:00