Comics / Comic Reviews / More Comics
Lady Death #0
By Andy Frisk
Dec 7, 2010 - 23:18
Brian Pulido's gothic pin up/dark fantasy character, Lady Death, gets a new lease on life headlining a new ongoing series from Boundless Comics, a division of Avatar Press, Inc which was created solely to showcase Lady Death's return. Appearing as a side character in Pulido's Evil Ernie series way back in the early 1990s, her popularity grew from month to month (as well as her potential profitability), leading Pulido to branch her out on her own. She went from being Evil Ernie's bad girl friend to becoming one of the most popular (and scantily clad) female heroes of the 1990s, the heyday of the bad girl in comics. Lady Death, along with Vampirella and Dawn, garnered tremendous sales numbers during the decade, but with the contraction of the market in the late 1990s and early 2000s, Lady Death went the way of most of the heavy on the art-light on the story eye candy vixens. With her cohorts Vampirella and Dawn re-emerging though, (with Vampirella actually being bought as a property by Dynamite Entertainment and currently undergoing a renaissance of sorts), it wouldn't be long before Lady Death returned. Her and her fellow heroines oft supplied more in the way of titillation and image than storytelling, even though some of Lady Death's tales (recently reprinted in trade paperback form from Boundless Comics) weren't too terrible. With the launch of Lady Death the ongoing series, Pulido and company are hopefully looking to rectify some of this imbalance (as Eric Trautmann is doing over in Vampirella for Dynamite Entertainment—Vampi doesn't even appear in her blood red bathing suit outfit for the entirety of the her debut ongoing first issue).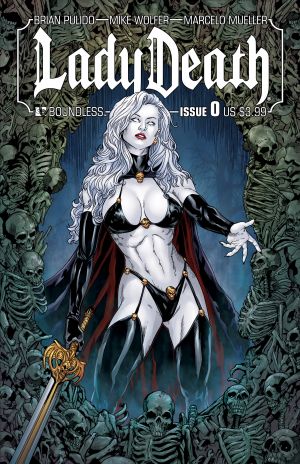 As far as the story goes, Lady Death #0 opens with a very familiar looking character named Illadra, who is a part of a roving band of mercenaries living through the plague infested and battle scared years of the Middle Ages, fighting to free some local townsfolk who have been kidnapped by a secluded town of cannibals. The town's inhabitants have survived on human flesh while separated from the surrounding countryside during a particularly nasty outbreak of plague. Illadra's band quickly runs into some supernatural problems though when a demon comes calling on a mission to awaken Illadra to her true identity in order to save The Under Realm from an unspeakable evil. The only problem is Illadra has no memory of who she was, and she isn't willing to listen to the ramblings of a demon…
Pulido and Wolfer (Gravel, Wolfskin) do a good job of setting up the tension and the plot, as well as the characters, only to kill off nearly everyone and everything except Lady Death…I mean…Illadra by the end of the first issue. Some of the band of mercenaries with which Illadra are hooked up with are interesting to the point that such a cast can be before being written out of the tale less than 32 pages later. This is a comic book whose protagonist is named Lady Death though who, according to the demon beseeching Illadra to return to form, "…must save us. Death preserves life," so we might not have seen the end of Illadra's band of mercenaries yet.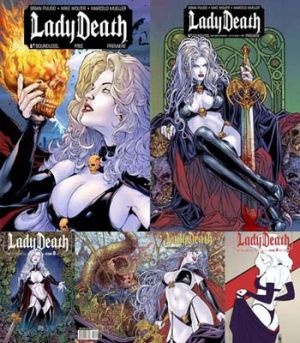 Artist Marcello Mueller does a good job of bringing this bloody affair to life, and it is bloody (so its not for the kids—like any parent would by their kids a book with a voluptuously curvy albino chick in a barely there goth bikini anyway…). Mueller captures the kinetic and graphic violence (did I mention it was a bloody book?) to believable life. He also creates some pretty frightening demons, even if there's nothing unique about their look. They're classic looking demons with leathery wings and scaly skin. Of course, Mueller can pencil out a full figure—a must for a Lady Death artist, but surprisingly manages to make her look not quite as unbelievable as you'd think. As far as the covers go, there are (of course) several different variants, but perhaps the most interesting and sensual one is Juan Jose Ryp's wraparound cover. Putting aside the great detail work that he put into its background, his chosen pose for Lady Death is the most eye catching and realistic. Ryp's Lady Death is neither a chiseled warrior nor an impossibly endowed super chick. She is nearly believable in proportion, with a body that you'd most likely run into on any well trafficked beach. Well…a very well trafficked beach…filled with incredibly beautiful women…okay, maybe she's not as realistic as I'd like to think, but she's not too far from the real thing.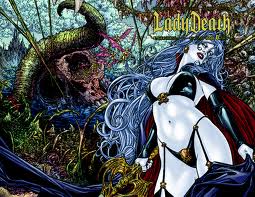 Overall, Lady Death #0 is a decent dark fantasy read for those looking for a little escapism. The book, again by nature of its protagonist, will definitely be easy on the eyes. If Pulido is as proud of his creation as he should be, and respectful of the fact that a whole imprint was created in order to publish her tales, he'll make sure the series is worth reading and not just flipping through.
Rating: 7 /10
Last Updated: Jun 26, 2018 - 9:28