Webcomics / Johnny Bullet Comic
Johnny Bullet Bonus #4 Comic
By Hervé St-Louis
June 5, 2016 - 01:59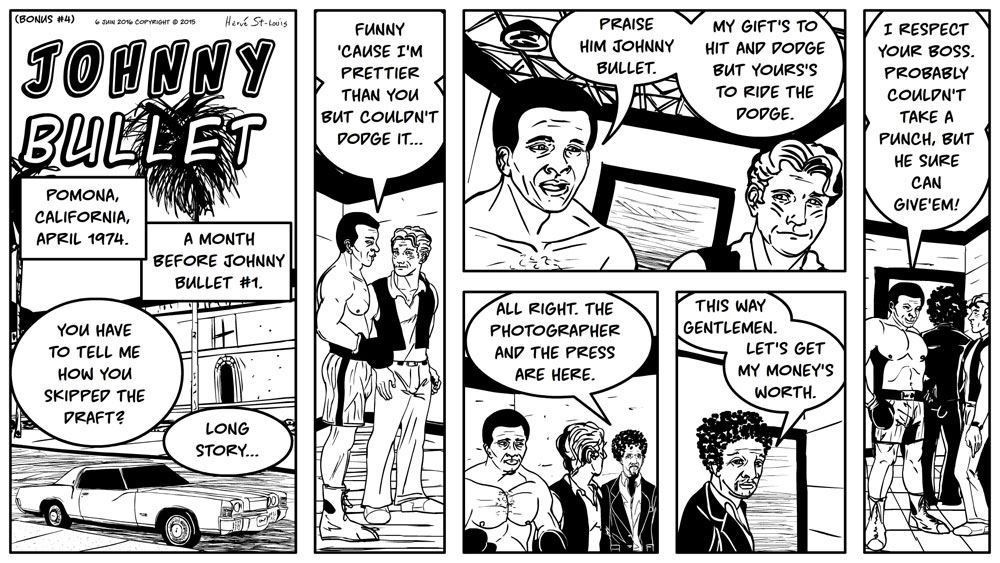 Subscribe to Johnny Bullet through RSS
Patreon


Subscribe to the Johnny Bullet Newsletter
Email me!
Written by : Hervé St-Louis
Pencilled by : Hervé St-Louis
Inked by : Hervé St-Louis
Letterered by : Hervé St-Louis

I did not draw the regularly scheduled strip so that I could produce this one instead, to commemorate Muhammad Ali, the greatest athlete ever. Usually bonus strips are for Patreon supporters but this one breaks every rule.
For the continuity minded, this strip occurs a month before Johnny Bullet #1 and by extent, Johnny Bullet #0. I rushed this one in less than 24 hours. I hope that you enjoy it. Let me know below in the comments.
The regular Johnny Bullet will continue next week.
Cheers
Hervé
Last Updated: August 4, 2023 - 09:22
Join the discussion: