Webcomics / Johnny Bullet Comic
Johnny Bullet #39 Comic
By Hervé St-Louis
August 31, 2015 - 10:40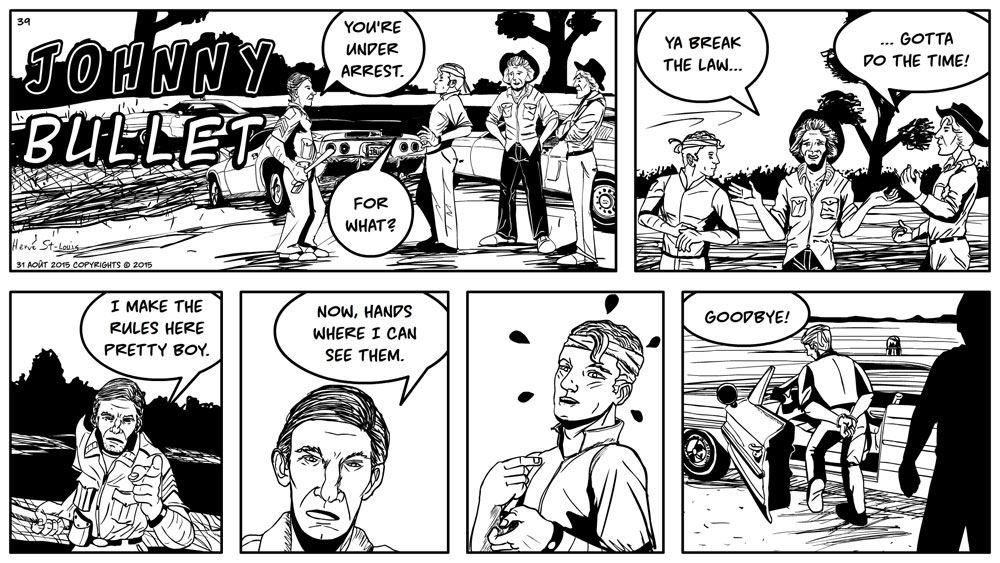 Subscribe to Johnny Bullet through RSS
Patreon


Subscribe to the Johnny Bullet Newsletter
Email me!
Written by : Hervé St-Louis
Pencilled by : Hervé St-Louis
Inked by : Hervé St-Louis
Letterered by : Hervé St-Louis

Hello. First I apologies for the delay in posting this week's Johnny Bullet. I've installed Windows 10 like many fools and it continuously crashes my computer. I draw Johnny Bullet digitally so this can be a problem. At one point where I forgot to save my work every minute, I lost about a good amount of work. I had to redraw everything.
Microsoft also removed my ability to play DVDs on my computer. I used the default Toshiba app installed on my computer and independent of Windows. That too was disabled. Although I downloaded the new updated by Toshiba for Windows 10, it doesn't work.
I refuse to use the Microsoft app store to get the new paid for Microsoft DVD player app. I don't like the commodification of my personal computing. I teach commodification to undergraduate students and study information security. I have to practice what I preach with my own computer!
I like to play DVDs on my laptop as I draw on my Cintiq screen but Microsoft just prevented me from having control over my own computer and working the way I want.
There were also delays because I had to redo the character model sheet for the Leduc brothers. I wasn't using the old one anyway and I wanted to soften the look of the characters a bit. You'll see them a lot for a while so I should probably make them more likable!
I was also drawing the model sheet for the sheriff which is introduced today. I figured out his car a while back but never drew him. In the first model he had crazy hair. I drew him the same way in the strip. But he really was ugly. Well, he's still an ugly dude, but at least he doesn't look like Kramer anymore. My Patreon supporters can download the updated
model sheet for the Leduc brothers and the Sheriff on Patreon
.
It's been quite a busy weekend. On Sunday, I woke up at 8 am to work on Johnny Bullet. I went to bed at one am this morning. I was also preparing the page on Saturday and had problems with the French dialogues of the French version of Johnny Bullet. As I've written before, I try to make each version truly local and unique. Using the English dialogue as written here in French did not work at all. I had to do a lot of rewriting to get the dialogues right for Johnny Bullet in French!
Well, now it's here. I hope that you all enjoy today's comic. There really is a lot more of you reading Johnny Bullet. Thank you for being one of my reader! When I believe that my updates are late, I post about it on the Johnny Bullet Twitter account at
@JohnnyBullet74
. It's the easiest way to see when I'll be posting new strips on Sundays. See you next Sunday, on September 6, 2015.
Cheers
Hervé
Last Updated: August 4, 2023 - 09:22
Join the discussion: