Webcomics / Johnny Bullet Comic
Johnny Bullet #24 Comic
By Hervé St-Louis
May 10, 2015 - 16:56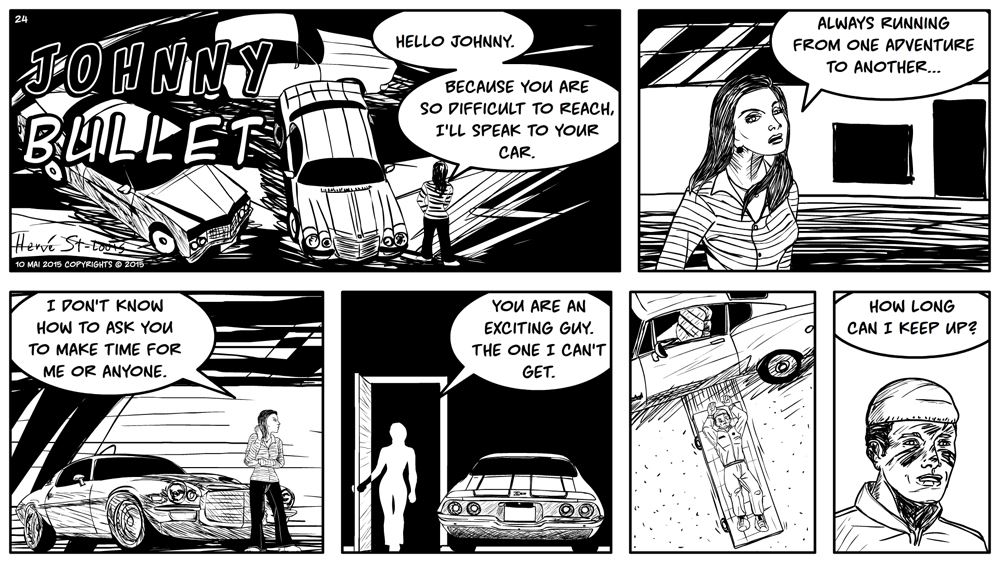 Subscribe to Johnny Bullet through RSS
Patreon


Subscribe to the Johnny Bullet Newsletter
Email me!
Written by : Hervé St-Louis
Pencilled by : Hervé St-Louis
Inked by : Hervé St-Louis
Letterered by : Hervé St-Louis

I uploaded an
extra Johnny Bullet strip bonus page on Patreon for $5
supporters and up. The story in that comic strip occurs between the strip above and the one from last week. I introduced a new character that will affect the world of Johnny Bullet in the future. The bonus page is a way for me to say thank you to people who support Johnny Bullet on Patreon. Whenever I can, I will try to add more extra pages like that. The
Patreon page
also has updates of the strip in advance and larger artwork. Two weeks ago, I posted the character model sheets of some of the new characters coming in a few weeks.
By now, you may have noticed the new font. I picked MangaMaster from Blambot. Thank you to everyone who helped me pick the new font.
Today, it's been six months since Johnny Bullet has been released. It's cool. Currently, it's available on six Web portals outside of ComicBookBin. More people are noticing Johnny Bullet. It's great! Some to the sites have a few more updates that I preprogrammed last week but soon there will run out of new pages. New pages will continue to appear at ComicBookBin but I locked myself out of the Web portals as well as all social networks until I deliver a huge deliverable at the University. It's a way to motivate me! I literally have no access to any superfluous Website except for ComicBookBin. So I can't even change my mind or cheat! A man has to do what man has to do!
Have a nice week!
Last Updated: August 4, 2023 - 09:22
Join the discussion: