Comics / Comic Reviews / More Comics
Irresistible #2 Review
By Zak Edwards
September 3, 2012 - 13:22
J. Skyler has completely different takes on this book that I encourage you all to read. They can be found here, here, and on the right hand side.

Remember Y: the Last Man? It was a comic born out of male fantasy, the idea that if you were the last man on the planet, you would have all the sex in the world all the time with anyone you wanted simply because you were all that's left. Despite that origin, Y: The Last Man ended up being was a smart, witty, and poignant look at the world as it is through a world that could have been. The protagonist, Yorrick Brown, spent more time running from women trying to kill him and looking for another across the globe than anything else, and those female characters were well rounded, interesting, and formidable. I bring up Y: The Last Man because there is a few other people who remember it, notably Raven Gregory and Derlis Santacruz, who mention it in the first issue. The main problem is that they don't remember very well.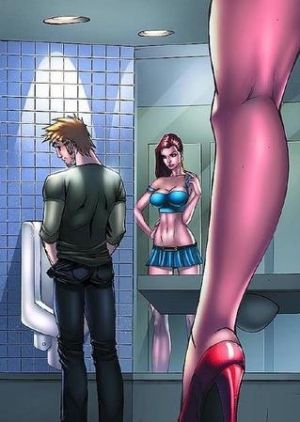 Irresistible takes a different premise for male sexual fantasy, one where the man is pursued by women constantly, that he is somehow completely irresistible for no reason other than he is and, because of it, women will throw themselves at him, wishing only to fulfill his sexual desires. This, of course, is something I expect almost all people think about at some point, it's basis is in wanting people to like you, to be desired, and to feel attractive and wanted. It's why the internet is littered with advertisements about pheromones that will turn women into sex machines and it's why the porn industry is terrifying, because it reduces women to sexual objects to be exploited and thrown away faster than anyone can think. Irresistible is filled with sexuality, Allen is constantly having sex and there is nothing wrong with that or the graphic depictions of it (well, the large amount of large breasts) but there is something awful about the discourse in which this material is situated. Raven Gregory pens a story about a man getting laid by women not in control of themselves, and yes we don't have legal sanctions regarding magic, but sleeping with someone while they are not in their right mind, be it heavy intoxication or mental illness, is called rape, not a great time. The book, however, doesn't move past indulgence and this effectively makes his protagonist a rapist that is instead seen as a porn star, a fantasy instead of one of the worst kinds of criminals, a terrible person despite the assessment that he's a good one by the person who grants him his wish.
And while Gregory sidesteps this issue, his attempt to rectify Allen actions relies on misogyny rather than, I don't know, anything else at all. The consequences of his actions comes from in the form of a girl thinking they're in a relationship now and then killing herself when he rejects her, a stereotype of the crazy, over invested girl. It's awful and infuriating that a book insists on being so singularly dimensional about half the human population, even the "good guy" Allen argues all strippers are the same after admitting they all have different stories and, somehow, turns three guys going to the strip club saying things like "You're like my pinky toe: small and I'm gonna bang you on my couch later" into the victims. And if, at any point, readers are unsure how close to nonconsensual Allen's actions are, remember that he is starting a plot to get close to his ex girlfriend so she will be uncontrollably attracted to him, despite rejecting him consistently for a year and a half. While I understand there may be a larger story going on here, Allen is also unrelenting in his whining about a breakup, the way these characters talk, the things they say, and what they do while literally giving no voice to the opposite gender (except for the ex who doesn't want anything to do with him) makes this book almost dangerous. People can't interact like this or think even for an instant this is acceptable.
Artist Derlis Santacruz is exceptional at making artwork for boys with parents who have blocked most of the internet, providing plenty of stimulating spreads (no pun intended) of Allen screwing all sorts of women. Not all sorts of different looking women, we are restricted solely to the singular body type comics are constantly critiqued for, just in all sorts of scenarios with different haircuts. The first one has long blonde hair, another one has short brown hair, that's the variety (well, occupation too, but these women never say anything, so its hard to know exactly anything about them). Overall, his art is in line with what I think is holding comics back from anything but juvenile fantasy and escapism which is exactly what this book is. The art is best summed up in the covers: sexy girls designed to be hidden under mattresses, along with the juvenile fantasies they entail.
Grade: 0 Without any merit whatsoever, this type of publication should be banned.
Rating: 0 /10
Last Updated: May 19, 2020 - 12:25